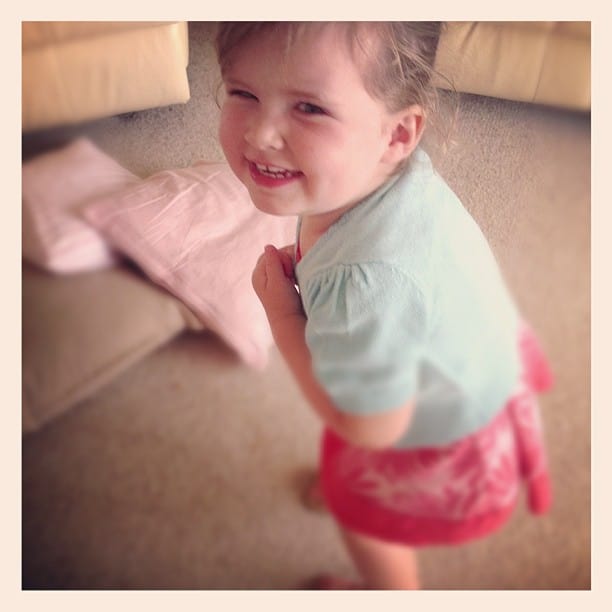 Evening all. I'm popping in quickly tonight to upload the Aussie Giveaway Linky. I'm part way through writing a chapter for the bio novel and am eager to keep going. However, first I really should let you in on our wins for the week:
This is our 100th Aussie Giveaway Linkup. Completely shocked by that. Where did the last 100 Saturdays/Sundays go?
Two-year-old Holly has developed the occasional bit of attitude, with her favourite word being "anythink''. Translated, this means "nothing''. If I ask her: "Holly, what are you up to?'', she throws a sharp "anythink'' back, complete with adult-like scoffing and furrowed brow. It is so hard to keep a straight face. (PS. I do have a cute and funny video I need to share of her soon too!).
I've booked The Bloke in The Shed in for a weekend away in Melbourne to watch Collingwood v Carlton for his birthday. That's definitely a win – whether the Pies win or lose. I've just got to remember to turn the phone off before the game.
Apparently Holly loves me more than her dad. Me: "Why don't you love Dad?''. Holly: "Because he's a naughty ratbag.'' Me: "Why is he a naughty ratbag?'' Holly: "Because he fights on me''. Translated: Julian tickles her and does general annoying dad things. Just wait till she's old enough to understand dad jokes.
What were your wins this week?
Now, onto this week's Australian competitions and giveaways…
Aussie Giveaway Linkup instructions:
If you're a blogger or business wanting to take part in the Aussie Giveaway Linkup:

1. Only link directly to the giveaway post/s and include the prize and end date in the linky tool below. Link each giveaway separately. If you need to delete it, hover over your link, wait until the red "x'' appears and click.
2. Giveaways must be open to Australian residents and be run by Australian-based bloggers or businesses.
3. Grab the button below to add to your post.
4. A new list is added each Sunday so bloggers need to add their links weekly.
5. Start entering the giveaways! Entry is at your own risk. We do not take responsibility for unfulfilled prizes or a blogger/business not abiding by their own terms and conditions.

Hosted by Three Lil Princesses