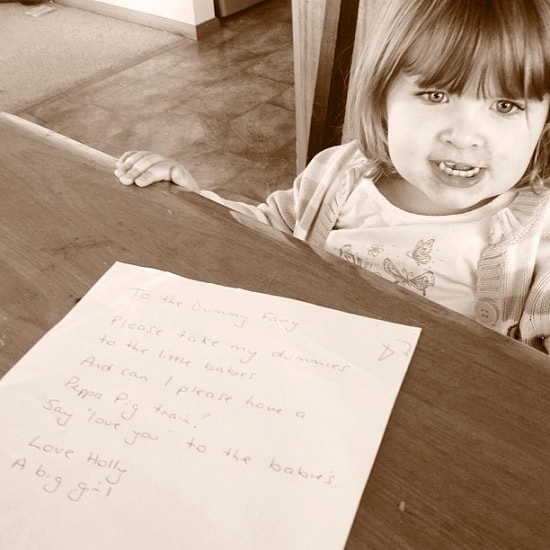 There's one real winning moment from our week and it had everything to do with the dummy fairy. Those who follow Three Li'l Princesses via Facebook, Instagram or Twitter will know the dummy fairy was visiting here last night to take Holly's dummies to give to other little babies who needed them more.
We used this strategy for Ella when she was the same age – 2.5 years – and it worked a treat. I'm happy to say, despite her sitting up in bed and reading until 9pm, there were no tears and she slept through the night.
Tucking her into bed tonight, she did ask "where's my dummies?''. A little "remember the dummy fairies gave them to the little babies'' speech and she was fine with it.
I must say, it's a huge relief. During the week I'll share the process for getting Holly prepared for the dummy fairy – including writing the letter above – and how this time differed to getting rid of the pacifier with Ella.
What age was your child when you got rid of the pacifier?
Now, onto some other ways to win…
Aussie Giveaway Linkup instructions:
If you're a blogger or business wanting to take part in the Aussie Giveaway Linkup:

1. Only link directly to the giveaway post/s and include the prize and end date in the linky tool below. Link each giveaway separately. If you need to delete it, hover over your link, wait until the red "x'' appears and click.
2. Giveaways must be open to Australian residents and be run by Australian-based bloggers or businesses.
3. Grab the button below to add to your post.
4. A new list is added each Sunday so bloggers need to add their links weekly.
5. Start entering the giveaways! Entry is at your own risk. We do not take responsibility for unfulfilled prizes or a blogger/business not abiding by their own terms and conditions.

Hosted by Three Lil Princesses