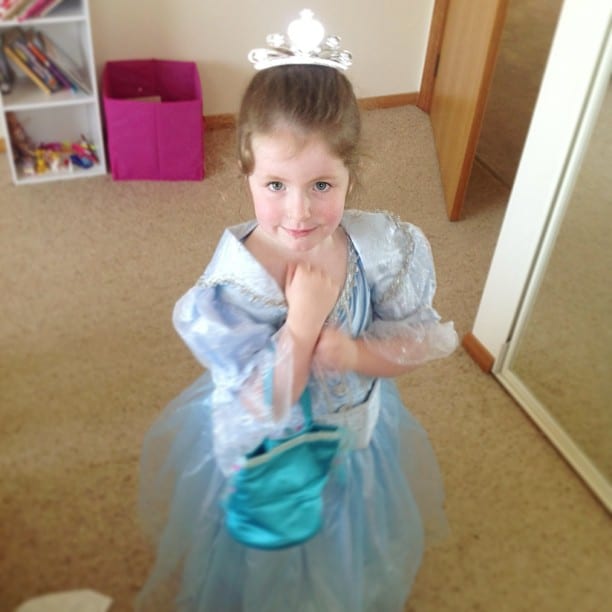 Highlights from Mother's Day week (I know it's a day, but I'm making it into a week!):
I got caught eating Ella's Humpty Dumpty Easter egg. Come on, I was desperate for chocolate. To avoid the tears, I promised any Mother's Day chocolates I received she could share. The next morning, while telling her how I couldn't wait for Sunday's sleep in, breakfast in bed and dinner out, Ella piped up with: "And don't forget, you've got to give me some of your chocolate fudge we bought you?'' She then turned pale. "Oops, I wasn't meant to tell you that, was I?''. Ah, probably not!
And how cute is Cinderella, all dressed up and ready for the ball… or the disco, at least. Her first school disco and a handbag full of money ($5 can look like a lot when it comes in change).
Do you already know what you're getting for Mother's Day? Are your kids good with keeping secrets?
Now, onto this week's Australian competitions and giveaways…
Aussie Giveaway Linkup instructions:
If you're a blogger or business wanting to take part in the Aussie Giveaway Linkup:

1. Only link directly to the giveaway post/s and include the prize and end date in the linky tool below. Link each giveaway separately. If you need to delete it, hover over your link, wait until the red "x'' appears and click.
2. Giveaways must be open to Australian residents and be run by Australian-based bloggers or businesses.
3. Grab the button below to add to your post.
4. A new list is added each Sunday so bloggers need to add their links weekly.
5. Start entering the giveaways! Entry is at your own risk. We do not take responsibility for unfulfilled prizes or a blogger/business not abiding by their own terms and conditions.

Hosted by Three Lil Princesses