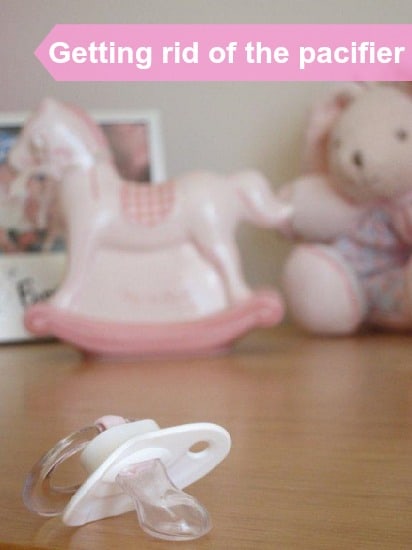 Getting rid of the pacifier has been on our to-do list with Holly for the last few months. Finally, on Friday night, we did it.
After talking about it on Instagram and Facebook on the weekend, I thought I'd reveal exactly how we went about it for those about to go through the same process.
Exactly when you get rid of the dummy is really up to you. Ella was two and a half when she lost hers and Holly has just reached the same age. Both girls weren't allowed their dummy during the day – only for sleeps.
Here's what we did:
Two to three months out:
Tell your child the dummy fairy will come and take their dummies one night to give to a little baby who needs it more than they do. The girls felt like it was less about what they were losing and more about how they were able to help someone else. And a little baby to boot! Continue to tell them this story over a two- to three-month period.
Two weeks out:
Read some children's books on getting rid of the dummy, pacifier or binky – whatever they call it. We didn't do this, but had the added bonus of childcare actually reading a book on the topic during the past few weeks. I think this really helped Holly because the message wasn't coming from us. (If anyone's interested to know what it was called, let me know in the comments and I'll find out for you).
One week out:
Take your child shopping and let them pick out something they'd really like to receive from the dummy fairy in exchange for their pacifier. Seeing what they're getting makes it all the more real. Alternatively, you may want to keep the gift a surprise and let them guess in the lead up to the big night. We also began to get Holly talking to friends, family and child carers about how she was going to give her dummies to the little babies.
The day of:
Choose a day that's not going to interrupt their schedule too much. We chose a Friday night, so if she didn't sleep well she had the weekend to make up for lost sleep. Talk excitedly about the big event with your child and with others you run into it.
The night of:
Have your child put the pacifiers into a container at bedtime or late afternoon. We put together a little letter this time. We didn't do that with Ella. We bundled that up with the dummies and sat it on the kitchen bench for easy access for the dummy fairy – super important, of course! When they go to bed that night, reiterate what they've done and how proud you are of them for helping the little babies.
I'm not saying this is guaranteed to work for your child. Each child is different. For us, it's worked both times and we'd happily do it again – if we had to. Thankfully, we don't!
I will add that Holly has sat up in bed reading to herself until 9pm the past three nights. That's later than usual, but at least she wasn't yelling out for dummies. In fact, she's only mentioned the dummy once, which was the second night. We just went over the story of the dummy fairy and the babies and she was happy with that. She's also slept through the night, without waking – which is the thing I was most worried about.
If you'd like other ideas for getting rid of the pacifier, make sure to read Five super techniques for losing the pacifier.
How did you get rid of the pacifier for your child? What worked and what didn't?