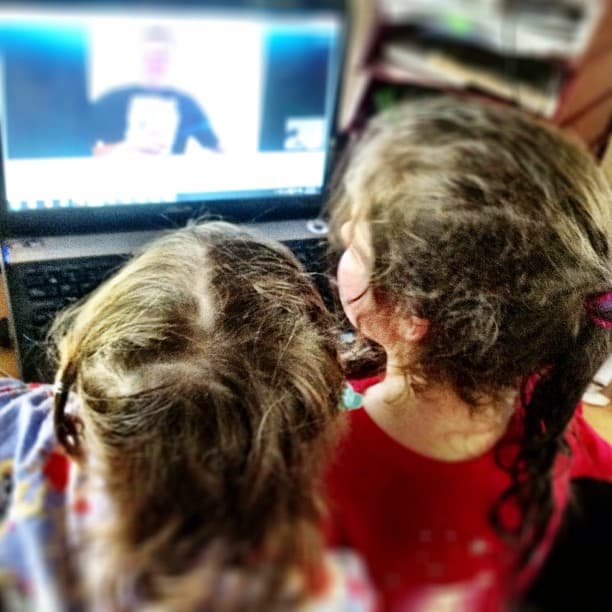 There is plenty to do a happy dance about this week. Our wins were:
Julian and I were selected (ah… roped into) a celebrity chocolate mousse eating competition. You'll see us there at Latrobe tomorrow (Sunday). The idea is we'll feed each other chocolate mousse – while blindfolded. I do love my chocolate, but this is probably taking it a tad too far. It starts at 10.40am if you happen to be in Latrobe, I'd love you to come and say hi. And maybe cheer us on!
Ella had her school report come back this week. It showed she's super smart, super creative… but not an athlete. Takes after her mother.
It's the Bloke in the Shed's birthday this coming week. We sent him off to Melbourne on Thursday to watch the Collingwood versus Carlton game at the MCG last night. The girls missed him so much, when they Skyped him Holly asked for cuddles and kisses. It's fair to say my computer is just not the same anymore.
What were your highlights?
Now, onto some real wins…
Aussie Giveaway Linkup instructions:
If you're a blogger or business wanting to take part in the Aussie Giveaway Linkup:
1. Only link directly to the giveaway post/s and include the prize and end date in the linky tool below. Link each giveaway separately. If you need to delete it, hover over your link, wait until the red "x'' appears and click.
2. Giveaways must be open to Australian residents and be run by Australian-based bloggers or businesses.
3. Grab the button below to add to your post.
4. A new list is added each Sunday so bloggers need to add their links weekly.
5. Start entering the giveaways! Entry is at your own risk. We do not take responsibility for unfulfilled prizes or a blogger/business not abiding by their own terms and conditions.

Hosted by Three Lil Princesses