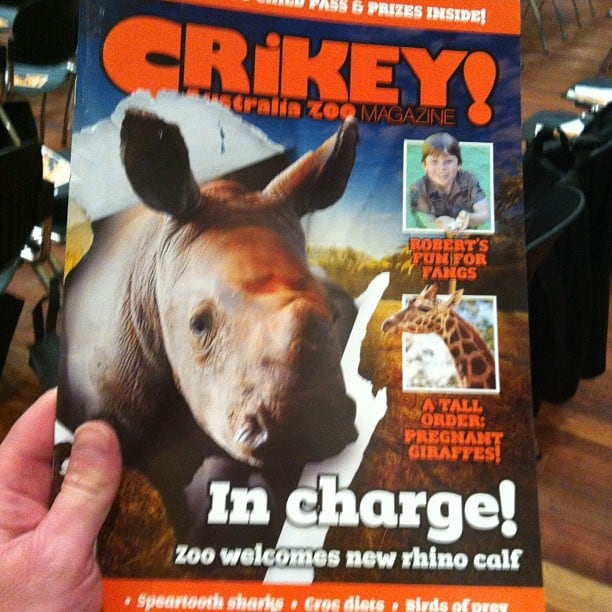 I have a little winning tale for you this week.
Ella was completely devastated The Advocate Newspaper was running a competition to win a wildlife walk in Tasmania with Bindi Irwin. The reason she was devastated was because the judge of the competition was the Editor – her dad. I'm guessing there'd be more than a few upset entrants if Ella entered and won.
Things got even worse when she discovered he was spending the day at a conference with Bindi and having dinner with her that night.
Eventually, she decided to instead give Julian strict instructions to get her Bindi poster signed.
Within minutes of the conference, Julian had spotted the wildlife warrior at the conference but figured he'd catch up with her later. Well, "later'' just so happened to involve school work or some other event for Bindi.
Thankfully, Terri Irwin came to the rescue with a copy of their wildlife magazine. And Julian had to do some major selling of the magazine to Ella via Skype that night before the dinner event.
When Julian arrived at the dinner, he was surprised to find Bindi was there too. I can tell you, he wasted no time in placing a poster and a pen under her nose. All was well with the world again.
At least in Ella's eyes, anyway.
Funnily though, when Julian brought the magazine and poster home, it was the magazine she was most sold on. Typical.
Are your kids Bindi fans? Have you been to Australia Zoo yet?
Now, onto some real better wins…
Aussie Giveaway Linkup instructions:
If you're a blogger or business wanting to take part in the Aussie Giveaway Linkup:

1. Only link directly to the giveaway post/s and include the prize and end date in the linky tool below. Link each giveaway separately. If you need to delete it, hover over your link, wait until the red "x'' appears and click.
2. Giveaways must be open to Australian residents and be run by Australian-based bloggers or businesses.
3. Grab the button below to add to your post.
4. A new list is added each Sunday so bloggers need to add their links weekly.
5. Start entering the giveaways! Entry is at your own risk. We do not take responsibility for unfulfilled prizes or a blogger/business not abiding by their own terms and conditions.

Hosted by Three Lil Princesses