Ella lost yet another tooth this week. And it's the front tooth. So she now looks like this: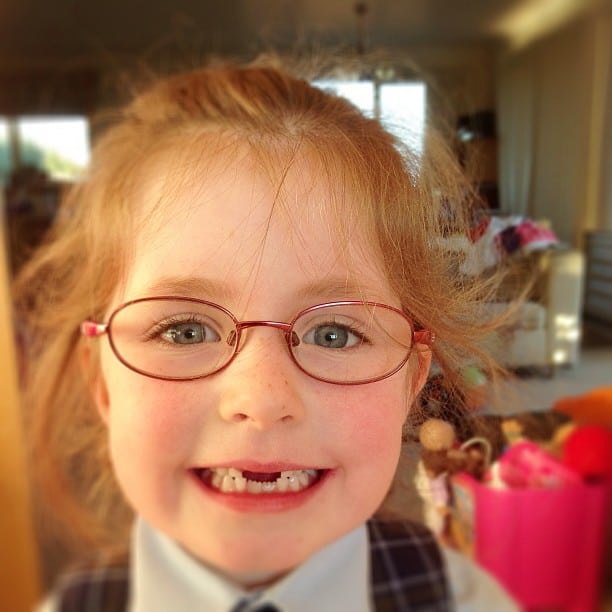 Guess what she wants for Christmas?
Once again, she carefully put the tooth under her pillow and went to sleep as soon as her head hit it. Seriously, this only happens on tooth fairy nights. Generally, she sits up playing "school teachers'' until far too late.
The next morning, to her shock, the tooth was still there. Apparently, the harsh rain kept the tooth fairy from being able to reach her. Ella was so concerned of a repeat that night, she asked us to Google to see if it would rain again. Thankfully, the weather forecast was for clear skies.
We went through the whole routine again the second night. On cue, Ella was out to it as soon as she hit the pillow.
However, this time it didn't rain, the tooth fairy had the money under the pillow within the hour of Ella sleeping and all was well with the world the next day.
Phew!
Have you ever forgotten your tooth fairy duties? (I will add that I remembered it earlier in the night, but thought I'd do it as I was going to bed. What a mistake that was).
Now, onto this week's Aussie Giveaway Linkup…
Aussie Giveaway Linkup instructions:
If you're a blogger or business wanting to take part in the Aussie Giveaway Linkup:

1. Only link directly to the giveaway post/s and include the prize and end date in the linky tool below. Link each giveaway separately. If you need to delete it, hover over your link, wait until the red "x'' appears and click.
2. Giveaways must be open to Australian residents and be run by Australian-based bloggers or businesses.
3. Grab the button below to add to your post.
4. A new list is added each Sunday so bloggers need to add their links weekly.
5. Start entering the giveaways! Entry is at your own risk. We do not take responsibility for unfulfilled prizes or a blogger/business not abiding by their own terms and conditions.

Hosted by Three Lil Princesses