We were already aware of the differences between Ella and Holly, but holidaying in Queensland and visiting the numerous theme parks revealed just how different they really are.
Ella, nearly 6, was petrified of many of the rides. How on earth we managed to get her on the Wild Rapid Ride at Dreamworld I will not know. On the other hand, she loved the shows – the seals, dolphins, Dora – and getting to meet all the characters.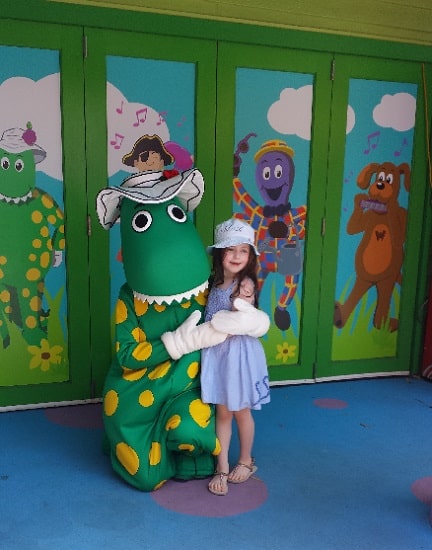 Holly, nearly 3, loved the rides. She was happy to ride a plane and let it take her as high as it could or jump on the rather mean-looking Superman Escape rollercoaster (although, thankfully she's still a tad too little to actually experience that one). On the other hand, she hated the loud noise of the shows. She screamed the entire time from fear. And characters? Well, this was her reaction to SpongeBob SquarePants: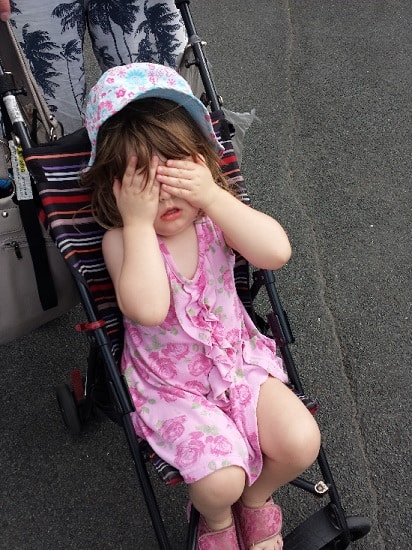 Are your children VASTLY different?
Now, onto this week's Aussie Giveaway Linkup…
Aussie Giveaway Linkup instructions:
If you're a blogger or business wanting to take part in the Aussie Giveaway Linkup:
1. Only link directly to the giveaway post/s and include the prize and end date in the linky tool below. Link each giveaway separately. If you need to delete it, hover over your link, wait until the red "x'' appears and click.
2. Giveaways must be open to Australian residents and be run by Australian-based bloggers or businesses.
3. Grab the button below to add to your post.
4. A new list is added each Sunday so bloggers need to add their links weekly.
5. Start entering the giveaways! Entry is at your own risk. We do not take responsibility for unfulfilled prizes or a blogger/business not abiding by their own terms and conditions.

Hosted by Three Lil Princesses