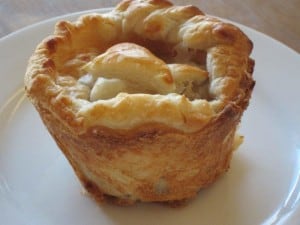 This is one of those recipes that's ideal to cook up with the kids one afternoon, then put into containers and freeze. Then, on nights when arsenic hour gets all too much, you can whip out a batch and make either… 
Spaghetti Bolognese
Lasagne
Pasta Bake
Gourmet Beef Pies
Tacos
Feel free to double or triple the quantity.
BASE RECIPE:
INGREDIENTS:
1 Tablespoon olive oil
1 clove garlic, crushed
 1 onion, finely chopped
500g beef mince
2 rashers of bacon, diced
1 x 425g tinned tomatoes, chopped
1 Tablespoon sugar
2 cups beef stock
2 Tablespoons tomato paste
Herbs (try basil, thyme, oregano, parsley…)
Salt and pepper, to taste
METHOD:
Heat the oil in a large pan, then saute garlic and onion. Add bacon and cook a further one minute.
Add beef and cook until brown.
Then include tomatoes, sprinkling of sugar over the top, beef stock, tomato paste and herbs.
Cook for at least half an hour, more if needed, 'til the liquid thickens into a rich sauce.
Place amounts, equivalent to what your family would eat with spaghetti, and freeze in containers.
SPAGHETTI BOLOGNESE
Take out a quantity of Bolognese sauce.
To add more vegies for the kids, fry off 1 diced carrot, 1 diced zucchini, 1 stick of celery and ¼ capsicum. Add to the sauce. For further flavour, add 1/2 cup of white wine.
Boil 500g of desired pasta (angel hair is a fave in our household because it doesn't take long to cook).
Dish up the pasta, top with sauce and add parmesan cheese.
TIP: Stir a bit of the sauce into the pasta once it's cooked to stop it from sticking and going hard in the bowl.
PASTA BAKE
As above, except this time use fusilli pasta, combine pasta and sauce and place in casserole dish. Top with cheddar cheese and parmesan cheese. Bake for 20-30 minutes in an 180C oven.
TIP: Feel free to use whatever type of pasta you like. Maybe you prefer elbow pasta, penne,spirali, farfelle, etc.
LASAGNE
Again, it's not too dissimilar to the previous two recipes. However, this time you need a white sauce. Melt 2 Tablespoons of butter in a saucepan. Add 2 Tablespoons of plain flour. Cook for 1 minute. Slowly add 2 cups of milk and continue cooking until it starts to thicken. Add a sprinkling of clove and nutmeg. Then add 125gs of cheddar or mozzarella cheese. Stir until melted.
Then, in a lasagne dish, put 1/3 of the meat mixture. Follow with lasagne sheets, meat sauce and white sauce and repeat. Finish with white sauce and then top with parmesan cheese.
Bake for 40 minutes in an 180C oven.
TIP: Always put a tray under the lasagne dish so it doesn't boil over onto the bottom of the oven.
GOURMET BEEF PIES
Take out a quantity of Bolognese sauce. Heat it on the stove and add a cup of frozen peas.
While heating, cut out 6 x 13cm rounds of puff pastry and 6 x 9cm rounds. (If you have three pastry sheets layered on top of each other, you'll only need to cut out the shapes twice).
Place the 13cm rounds into a six-hole Texan-size muffin tray. Prick the sides and bottom with a fork. Cover with cling wrap and place in the fridge for half an hour.
Take cling wrap off and replace with baking paper and then fill the paper with dry rice. (Be careful the rice doesn't spill over into the pastry). Bake in the oven for 10 minutes at 200C. Discard paper and rice.
Once cooled, fill with the sauce, then top with the 9cm rounds, squeezing the edges of the base and top pastry together. Put a decorative piece of pastry on the top if you like. Brush with beaten egg, then bake for 15 minutes.
TIP: With the leftover pastry, we cut them into triangles and place on top to make stars. Any other remaining pastry gets twirled into spirals, sprinkled with pepper and baked for crunchy snacks.
TACOS
Another batch of sauce, another recipe. (Can you call taco's a recipe?)
This time you'll need to buy a taco kit. It's up to you whether you buy the complete kit with seasoning for the mince, or whether you buy just the taco shells and a separate jar of taco sauce.
Heat the sauce. Place the taco shells on a tray and bake for 10 minutes (or however long the packet says.)
Meanwhile, shred lettuce, dice tomatoes, dice avocado (remembering to squeeze lemon over the top so it doesn't go brown) and grate cheese.
Put each in separate bowls on the table, along with the taco sauce, taco shells and meat sauce.
TIP: This is my daughter's favourite meal, mainly because she gets to create her own taco. There's something to be said for kids being able to make their own dinner. It might end up all over the table (and the floor), but at least she eats the lot!