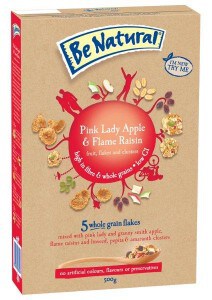 OUR favourite meal of the day in the O'Brien household is breakfast – and it's not always necessarily confined to mornings.
It's 8.30pm at night as I'm writing this, curled up on the couch with the laptop and a bowl of Pink Lady Apple and Flame Raisin cereal (RRP $4.99), courtesy of the good people at Be Natural. I could easily sum it up by saying just "scrumptious'' as milk dribbles down my chin, but I'm guessing you want a better description.
Coming from the Apple Isle, I'm taken with not only pieces of "real'' pink lady apples, but also granny smiths. Then throw in extra flavour from raisins, plus – the clincher for a good cereal – crunch from five wholegrain flakes, linseed, pepita and amaranth clusters and, as I said, "scrumptious''.
Forget needing artificial colours, flavours and preservatives.
Despite being the middle of summer, the Vanilla and Almond Porridge (RRP: $4.99) that came with it isn't going to waste either. Princess Ella loves her porridge. Offer her kiddie-treat cereal and she'll turn her nose up to them in favour of porridge. Yes, even in this sweltering heat. For her, receiving porridge with that yummy smell (vanilla) and some little nuts (almonds) was just like Christmas.
The new range also includes Multi-Grain Porridge; Five Whole Grains cereal; and Cashew, Almond, Hazelnut and Coconut cereal.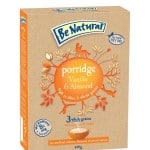 The folks at Be Natural are giving away one box of Pink Lady Apple and Flame Raising cereal and one box of Vanilla and Almond Porridge to each of the first 10 readers who leave a comment telling us your favourite way to eat cereal?
Hmm, I'd have to say with fresh fruit and yoghurt. How about you?
Don't forget to subscribe to the site, "like'' us on Facebook and follow us on Twitter so you don't miss out on details for the next giveaway.