PRINCESS Ella astounds me with the extent of her imagination. While once I would have been concerned that she was spending too much time at night reading books to her imaginary friends in bed, I'm now super proud. "Can you find the letter eeee, Teddy? Yes, that's right. Good boy, Teddy''.
You see, this strange behaviour isn't going to see her turn into Mel Gibson. Apparently, children with imaginary friends retain knowledge faster than other children, are more sociable and more creative. Or so I read somewhere. I'll be whipping out our favourite Chocolate Brownie recipe and inviting more friends over, I think.
Ella also walks around the house, pretend mobile phone cradled between her ear and shoulder, parroting an adult's conversation to a "friend" on the phone. I'm guessing she's either mimicking her dad or a child care worker. It couldn't be me.
The conversation usually goes something like this: "Oh, I know. That's terrific. She's been such a good girl today. I know. I'll just write that down on a piece of paper (scrambles for paper and a crayon). Now, let me see. It's e, u, h, k. I know. I know. Yes, I know.''
Mostly, her imagination has helped spawn incredible art work. Just look at this elephant she drew. Remember, she's only three – and that long thing is its trunk.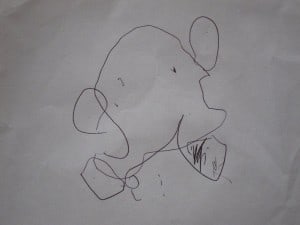 Then, only two days ago, while I was trying to get Baby Holly to sleep, she was busy with her craft and card making. I came out to find she'd made this rabbit for her cousin's birthday. All. By. Herself.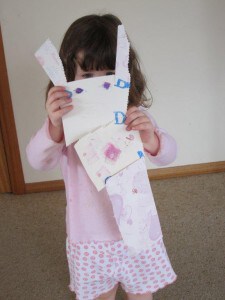 She proudly showed it off to me by lifting it up to my face. At this point, the taped on ear flopped downwards. "Oh dear, mum'' she said, in a rather sad voice. "He's got a floppy ear''.
However, there is a downside to having a child with a vivid imagination. A couple of weeks ago she had a play date with her cousin of the same age. The pair ran around the house, laughing and squealing because a monster was chasing them.
Then, suddenly, everything went quiet. No, don't worry, the monster didn't eat them. Wondering exactly what mischief they might be into, her mum and I started searching through the house. Here the girls were, in my bed, in the nudie rudie playing hairdressers, doctors …. and massages. Worrying, or what?
How do you foster your child's imagination? Does your child have imaginary friends?