THE Bloke in The Shed and Princess Ella donned aprons yesterday to put together this Eastery take on the humble bread and butter pudding. Comfort food to the extreme.
If this doesn't get you in the Easter mood, then nothing will. Except for probably Cadbury's Roses, a cake of blackforest chocolate, Turkish Delish, oh, and maybe a few Ferreros. (*hint hint*).
One packet of choc chip hot cross buns (Either minis or regular size. Minis allow for better serving portions).
30g butter, softened
125g roughly chopped dark chocolate
If you want to be fancy 1 vanilla bean, split, seeds scraped or just a few drops of vanilla essence.
Zest of one orange
600mL thin cream
600mL thickened cream
4 eggs
170g caster sugar
Icing sugar, to dust (after cooking).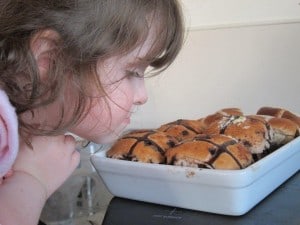 Split the hot cross buns and butter each half. Lay the bases, butter side down in a baking dish, sprinkle with the chopped dark chocolate, then place the bun tops on the bases, again butter side down with the crosses to the top.
Place the vanilla in the saucepan with the creams and zest, and heat over low heat until just simmering. Remove from the heat.
Beat the eggs and sugar until just combined, then pour into the warm cream, stirring continuously. Strain the custard over the buns and set the pudding aside for 30 minutes for the buns to soak up some of the custard. (The pudding can be prepared to this stage several hours in advance and refrigerated – just bring to room temperature before baking.). I found I had too much custard, but that's OK because I stuck it in a bowl and put it in the fridge for another yummy dessert.
When ready to cook, preheat the oven to 170°C.
Place the pudding dish in a large roasting pan and pour enough boiling water into the roasting pan to come halfway up the sides of the pudding dish. Place in the oven for about 45 minutes or until the custard is set. Dust with icing sugar and serve with extra cream if desired.
What's your favourite Easter dish?