IT IS not every day you learn your brother has been made CEO of one of the country's biggest companies.
I shouldn't have been surprised; he had been on that career trajectory for a while. But hearing the news come through the car radio that my older brother was to be the new CEO of Woolworths nearly made me veer off the road.
Everything else aside, it was a proud moment for what is a large and close family – seven children in all. Watching him on national television was more than surreal.
This was a bloke I grew up idolising, more for his ability on the football field than his future abilities in the boardroom.
He was much older than me, but the trips to Canberra and then south to Clarence to see him play footy remain some of the best memories of my life.
Even greater still were the memories of kick-to-kick alone in some vacant park oval. They remain vivid to this day.
The grief I gave his poor then future wife was regrettable now, but at the time I felt she was taking my big brother away from me. Silly, I know now.
As time went on, he and his family provided what felt like a second home for Princess Kel and I in Sydney as our own relationship grew.
Covering the 2000 Sydney Olympics was as memorable for the time spent with his family as it was for the Olympic experience itself – including my first introduction to pull-up nappies while babysitting his youngest (which time and an entire box of Wet Ones could not erase). But that's a whole other story which I might tell with her approval one day…
To me, he's not the CEO of Woolies. He's the bloke who had long straggly hair, dodgy early taste in cars and who was more capable of installing a new power point than reading a board report (he started working life as an apprentice sparkie).
And while it is that way for siblings, it appears it's the same for mothers and their children.
My brother relayed a story to me last night, which illustrates my point exactly. He rang my mum yesterday morning to tell her the news of his appointment before the announcement was made nationally.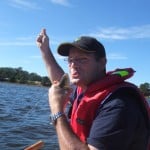 "Mum, I've just been appointed the CEO of Woolworths,'' he said.
"That's nice, dear. How are the children?'' Mum said.
Yep, sums it up nicely, I reckon.
Feel free to leave a comment and "like" us on Facebook.
Also, don't forget to cast your vote in the Top 25 Daddy Bloggers.
We're linking up with Where's My Glow's FlogYoBlog Friday.