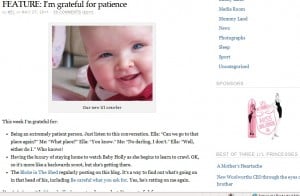 THREE Li'l Princesses' audience is fast growing and so far I haven't had to sell my soul. I could say I've been blessed or that my "content is king'', but I really doubt either are true. I can't pinpoint exactly what it is, but I'm guessing it might have something to do with:
The sheer volume of comments I make on other bloggers' blogs. No, I'm not stalking you.
Getting involved in social media – Twitter and Facebook. It helps save hubby's ears from my constant natter.
Giveaways. Because who doesn't like something for free? Unless it's a cold and then, no thanks.
Memes (aka blog hops). Rhymes with "cream'', not "Demi''.
The latter is where I see huge spikes in traffic and comments. I've road tested quite a few and have four that have worked really well for me. They are:
This one is pretty simple. You upload a photo. End of story. Although, it isn't end of story for me, as no words causes huge headaches for my homepage thumbnail, so mine is never truly "wordless''. And maybe also because I can't keep my mouth shut. Even for just one post.
Choose your best post from the week. I've found the key to this one working is an eye-catching headline – and headlines have never been my strong point. Thank goodness I married the rather clever Bloke in The Shed (please don't tell him I said that).
One of my favourite memes of the week, this one is simply a post about what you're grateful for. I've slightly copied Maxabella's format, in that she usually posts three things. Hers are numbered and mine and mere dots, so I'm being "slightly'' original. It's also my chance to spruik the silly things my three-year-old daughter Ella does.
This one is just too easy. Allison picks a topic and you have to dive into your archive (or you can just scroll through, if you like) and find a post that fits the subject. Love, love this one!
My advice though is to 1. Make sure you include the badge in your post to credit the wonderful work of the meme host. 2. Comment on other posts that are part of the meme. *UPDATE* This meme is now hosted by the lovely MultipleMum of And Then There Were Four. Check her out. She has a fab blog.
*UPDATE*
Since writing this post, I was asked by the gorgeous Tina Gray to co-host the Aussie Giveaway Linkup. The aim is for bloggers and business owners who host giveaways on their blogs to link up each Sunday morning to 1. attract more traffic to their giveaways and 2. give readers a chance to find giveaways all in the one spot. The linky closes on Tuesdays at 7am.
If you're a blogger, do you take part in memes? What are your favourites? If you're a reader, what memes attract your attention?