THERE was just one downside to our incredible four-day holiday in Melbourne last week. It had nothing to do with the crazy Melbourne weather – and this coming from a Tasmanian. And there was certainly little to fault with our sublime accommodation at Medina Grand or the cute waddling penguins at the Melbourne Aquarium.
No, it was watching three-year-old Princess Ella bury her head into her Dad's shoulder as her Uncle Rick drove off for the last time during our vacation. With tears streaming down her face, she whimpered: "I miss him''. It broke our hearts. All I can say is, thank goodness for Skype.
Aside from that one moment, this was definitely one of the more enjoyable holidays we've had – and it included a three-year-old, seven-month-old and lots of rain. Ella even got a lollypop from one shop assistant for "being so gorgeous''. It could have easily gone the other way, considering five minutes into the plane flight she asks: "are we there yet?''.
Medina Hotels gave us one night complimentary in a two-bedroom apartment at the centrally located Medina Grand on Queen St, which lived up to the cliché that first impressions count.
We were amazed at the service, the facilities and, oh, the space. And I'm not just saying that because they spoilt us. The kids were given a toy chest full to the brim with toys.
While we scored a divine bottle of red and welcoming card on arrival.
Sorry, no photo – the wine was devoured by the time we thought to photograph it.
Ella had the luxury of her own Queen-sized bed, big bathroom and a TV. I think she scored the better room. It was just enough space for her and her nine "friends''. Her bathroom also included full laundry facilities but, alas, she didn't make use of them. The Bloke in The Shed and I had a walk-in robe, safe and full bathroom (with bath) off our room.
The apartment was extremely kid friendly – if Holly woke up and had a screaming fit, she was out of earshot from Ella who was up the other end of the hotel room. Plus the walls seemed to be so well soundproofed we didn't hear a thing from any other room or the city below.
Add to that a large lounge, dining and work space (ideal for parking strollers), plus a balcony overlooking the city. The full kitchen helped in preparing our own meal the first night, food for the newly solids eating Holly and breakfast each morning. Boy, did it help save some money. There was the option of a handy grocery delivery service through the hotel, but we discovered an IGA down the road instead. Not to mention there being cafe and restaurant options on every corner.
My only negative, and to be honest it's pretty picky, was the straight-backed high chair. Holly just couldn't sit comfortably. Thankfully we had the stroller with us.
Speaking of which, knowing we didn't want to be carrying around a three-year-old when she got tired during shopping and touring the city, we invested in a cheap $30 stroller from Target which served our purposes well. It probably wasn't a great look for my brother Rick when we managed to get in the background of a Herald Sun photo.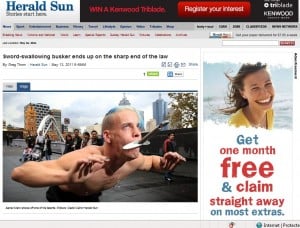 That's Rick pushing the pink pram. While away we avoided posting, Facebooking and tweeting about the fact we were in Melbourne in fear someone ransacked the house. Then we somehow managed to make page 3 and all that went out the window. Our house is still in one piece, by the way.
Other highlights of the trip included:
Ella's first experience on a tram, where she learned what it felt like to be a sardine. It helped her feel greater empathy for the fish at the Aquarium.
Shopping in the city and at Harbour Town, which wasn't actually the plan. The plan was to go to the new DFO South Wharf, but we missed the stop. Typical tourists.
Spending the day at the Melbourne Aquarium and seeing the sheer look of terror on Ella's face when she realised it was a "real crocodile''.
Good taxi drivers – there's slight concern when you know there's no child restraints in taxis (which is legal) but then score a maniac taxi driver who appears colour blind at traffic lights.
Ella witnessing Flinders Street Station and announcing to all "that place is on our computer''. (I'd shown her a few online photos to help prepare her for the trip).
Pancakes that made our eyes look bigger than our bellies – or our plates look bigger than our heads.
So, what do you love about Melbourne?
Stay tuned. A review of the Melbourne Aquarium and footy at the 'G is coming tomorrow, courtesy of The Bloke in The Shed. Read more about Medina hotels or join the MumSpace Facebook page where women share their experiences.
Make sure you enter to win two nights in a one-bedroom Medina apartment (valued at $1000).
Disclosure: We received a complimentary night at the Medina Grand and complimentary tickets to the Melbourne Aquarium. No financial payment was offered nor accepted for this post. All opinions expressed are purely my own.