AFTER announcing on Facebook and Twitter that I was interviewing someone famous on the blog today, instantly the questions started. A clue? He's in a rock band. Another clue? He has heaps of girls screaming his name.
Aussie rock band? No, the US of A! (Actually, to be honest, Australia too, and a myriad of other countries). New or old? New. Very new. Should they marry a Queen? Hmmm, this one had me puzzled. No, not a Queen. Well, not that I know of.
So, who is our mystery celebrity guest?
Enough with the questions. Please, let me introduce you to….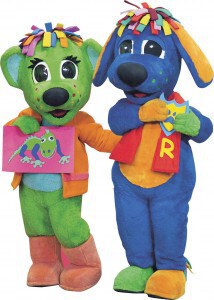 That's right, Raggs, from the TV show of the same name and Kids Club Band fame! Contain yourself, ladies. Please. Let the dog talk.
Kellie: So, what can we expect to learn from Raggs and the gang this season?
Raggs: There are so many great things to learn this season, but the most important lesson is for everyone to work together.  When you share and work together, everyone wins.
Kel: We hadn't seen you on our tellies for a while. What were you up to during the break?
Raggs: As you may know, besides our Raggs TV series, we're also a real rock 'n roll band! So during our break, we've been busy playing concerts in Australia and the United States! We have also been asked to put a program together for the Club Med Resorts, which have 80 resorts around the world. But, it is really exciting to be back home in Australia!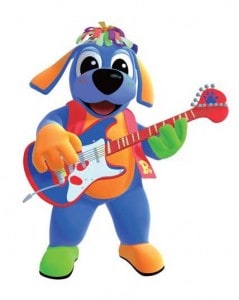 Kel: Your guitar playing skills are to be admired. Who are your guitar heroes?
Raggs: Thank you for the compliment, but I am still learning! I am influenced by rock, blues and jazz guitarists, but would probably say that I admire Eric Clapton, Jimi Hendrix and a guitar player from the Mississippi Delta named Robert Johnson. Many people don't know who Robert Johnson was, but he was really cool!
Kel: What's your favourite song from the show and why?
Raggs: That is a really tough question. I love all of the songs because they remind me of something that happened in the show or the way that we performed it. Can I pick three favourites?! They might change next week, but today I would say: "The TV Theme Song," "What's the Dealio," and "Jungle Zoo!" You can download our songs on iTunes!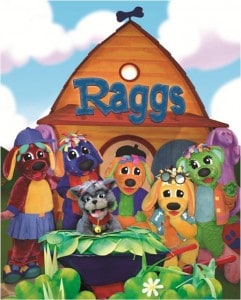 Kel: Life can be tough, not to mention frustrating, for pre-schoolers as they try to learn new skills. How do you always stay so positive?
I used to get upset when I couldn't do something, but my friends have taught me that it doesn't matter if I succeed as long as I give it my best shot. And, if I keep practicing, I might just get it right.
Kel: Where does Trilby go shopping to get all her stylish accessories? She seems to have a different accessory for every occasion.
Raggs: Trilby loves to shop.  Her favourite store is the Bow-Wow Boutique. She says that they have the best accessories for every occasion.
Kel: Do you have plans for any touring?
Raggs: Oh, yes!!! Playing music for our friends is the most important thing!
We have a lot of exciting touring events scheduled for this year and the next.  Some of these events are free too! Please tell all of your readers to keep checking our website for news and our tour schedule, which we'll keep updating!!!   Go to:  www.raggs.com.au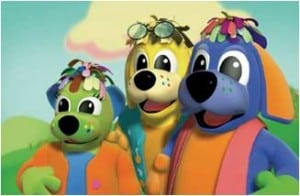 Thank you very much for your help spreading the news that we are back on TV! Please let us know if you have any more questions, anytime!!!
Pawsuuup! Your friend, Raggs
You can catch 'Raggs' on Boomerang at 9am weekdays and on 7TWO at 6am Monday thru Saturday.
Come back tomorrow to read a review of the new Raggs DVD and win a copy o f the DVD and CD.
What question would you – or your child – have asked Raggs?
Linking up with Where's My Glow's FlogYoBlog Friday.