AND the winner of two nights in a one-bedroom Medina Apartment, valued at $1000, is…
A very lucky person indeed. Oh, and did I mention the fineprint states they have to take me on their holiday too? 😉
Having just returned from two nights in Hobart (more on that tomorrow), I'm stuck in holiday mode. Not exactly the pina colada and two-piece bikini style holidays (I have kids – and a post baby belly – after all), but just a break away from the grey winter that's about to descend upon us. Here in Tassie, it rains for nine months of the year and drips off the trees the other three. So you need something to look forward to.
We've whittled down our holiday plans to three locations – shopping and food in Sydney, theme parks and food on the Gold Coast or shopping and food in Melbourne. Hmm, decisions, decisions.
Now, before I head off to make a pirate outfit for Princess Ella for child care tomorrow (oh, the joys of motherhood), the rather lucky Medina Apartment winner is…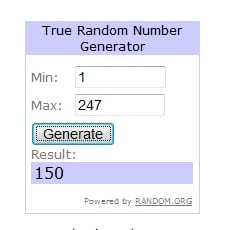 Congratulations! I'll be in contact soon. Hear Mum Roar said:
"I would choose Melbourne CBD. Never been, and want to go! Tweeted and shared on facebook."
Enjoy Melbourne!
Don't forget to head over to our inaugural Aussie Giveaway Linkup for more exciting giveaways, including Ugg boots, earrings, $100 vouchers, DVDs and years supply of tampons.