IF I need the answer to something, I usually ask Twitter. Twitter is so knowledgeable. Did you know it helped my pizza dough rise perfectly on Friday night when the sun decided to go to bed early? Thanks to all the suggestions of putting the oven on low, but the ol' bathroom IXL Tastic worked a treat.
However, it's fair to say Twitter didn't know the answer to whether my readers wanted extra entries as an option in my giveaways. Only you, my readers, could answer that. So I asked. And you answered.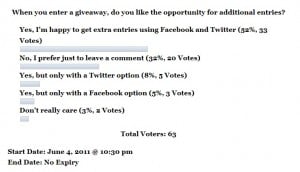 If you can't read that properly, you can find the results here. And by the way, that's not to say I won't mix it up every now again. Got to keep things interesting.
Anyway, back to the important things in life. Like the actual giveaways themselves. Bloggers and business owners, link up your giveaways below. For readers, simply start clicking the links and enter. Good luck…
If you're a blogger wanting to take part in the Aussie Giveaway Linkup:
Only link directly to the giveaway post/s and include the prize and end date in the linky tool below. Link each giveaway separately.
Giveaways must be open to Australian residents.
Grab the button to add to your post.
A new list is added each Sunday so bloggers need to add their links weekly.
Start entering the giveaways!
This linkup is a combined project with the wonderful Tina Gray. You can link up your giveaway on either of our sites – it all goes into the one linky.
PS. I have a new poll in the sidebar. Feel free to vote!

Hosted by Three Lil Princesses and Tina Gray {dot} Me