WHEN Princess Ella was asked not to sit on top of Baby Holly, her response was: "but she's my best friend''. Ah, right. It's fair to say, everyone's her best friend. But one of her "best'' best friends is Dora.  That's Dora the Explorer to you and I.
Ella is one of Dora's biggest fans. Saturday mornings can't come around quick enough for her weekly fix. Our house is filled with Dora.
The bathroom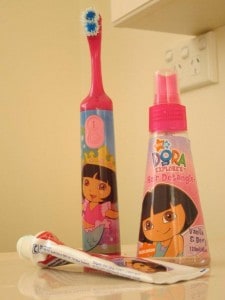 The bedroom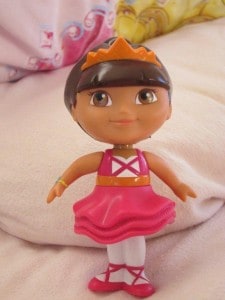 And the loungeroom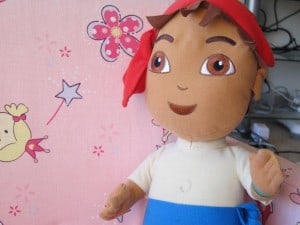 Yes, that's Dora's cousin, Diego.
So there were mini squees of excitement when Ella was told about the limited-edition, interactive DVD, Dora's first ever karaoke title, Dora The Explorer: Singing Sensation!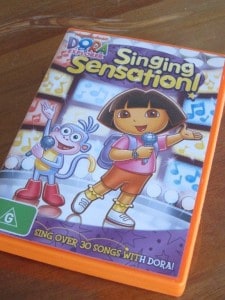 There's another reason this one is just a little bit special, because it has a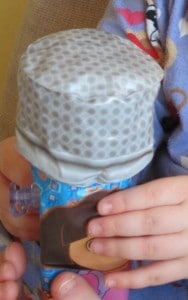 yes, a microphone. A limited-edition inflatable microphone as a free gift-with-purchase to be precise. Although someone kept pulling the plug so it ended up a little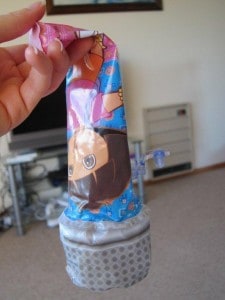 limp.
This takes the usual Dora concept of finding her way around the map with friend Boots to a new level, as they go on a sing-along adventure to get to the Pirate Piggies' Ship. On the way, they pass the Friendship Mountain, The Music School and El Parque.
There are more than 30 songs with a mix of English and Spanish, along with traditional songs and Dora-inspired tracks. Everything from La Musica to Mary Had a Little Lamb and The Backpack Song. (Hmm, now guess what's stuck in my head?).
Yes, I'll be honest and say that at times Dora drives me a tad crazy. Maybe it's the high-pitched voice. One of those in the house is bad enough. However, if it makes this all-singing,
all-dancing
person happy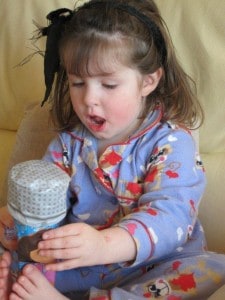 then I'm happy. Plus, readers of this blog will know I'm a big supporter of children learning a another language, after
Ella learnt sign language from her child carer
. If she can learn Spanish from Dora, it saves me a lot of money in tuition.
She hasn't learnt all the songs yet, but she's quickly picking them up. The melodies are frighteningly catchy. For children who love to sing and dance, then this one will be a hit.
To go in the draw to
win a copy of Dora the Explorer: Singing Sensation!
, simply tell us your favourite karaoke song.  The giveaway closes Sunday,, July 31 at 7pm and a winner will be drawn
randomly and announced on this blog and via Facebook and Twitter. Australian residents only. Limit of three entries.
Want extra entries? Then here's how you can up your chances in the draw. Each task is worth one extra entry, but must be included as a separate comment (or it won't count).
Click the Facebook button below and share this giveaway with your Facebook friends. Then leave a separate comment saying something along the lines of "I've shared this on Facebook''.
Click the Twitter button below and share this giveaway with your Twitter followers (Twitter handle is @ThreeLil). Then leave a separate comment saying something along the lines of "I've shared this on Twitter''.
Hosted by
Three Lil Princesses
and
Tina Gray {dot} Me