PRINCESS Ella crept out from her bedroom one night this week with Motley (the charming name for her new Zhu Zhu pet) in hand. "Mum, he's making too much noise and just won't go to sleep. Can you look after him for me?'' She then turned on her heel and proceeded back to bed. Meanwhile, Motley sat on the kitchen bench making "squee…..squee-squee…..squee'' noises for the next three minutes.
Ella has always wanted a pet, but The Bloke in The Shed isn't keen. The other day, when the topic once again turned to getting a pet, I asked "well, what pet do you want?''
"A giraffe,'' she said. Oh, of course, what a perfect choice.
"And where would we put him?'' I asked.
"In the back yard,'' she said, matter of factly. Silly mum. Where else would you put him?
So since Motley arrived she's been beside herself. Finally she has her own pet – a hamster – who squees like a blogger, runs around the kitchen like a mad mother and can even power his own Drive-In Movie (well, I can do that too. It's called a remote and a bean bag).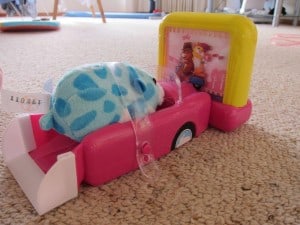 Ella had a choice between a blue or green hamster. And the Drive-In Movie or the Adventure Ball. She chose the blue one and the movie. I think she thought Mary Poppins might be showing.
Motley, her great new companion, is causing plenty of giggles as he chases her around the kitchen. However, there is one slight downside to Motley. My malting hair on the carpet (thanks to breastfeeding hormones) isn't a good mix with Motley's little wheels. So he's a kitchen and dining room pet only. And he chatters a lot. Nearly as much as his owner. Although, thankfully his chatter is at a few decibels lower.
Zhu Zhu pets, voted Australian Toy of the Year Winner for Girls, are a great idea for children 3 years-plus looking for their own "pet''. I can imagine quite a few boys would enjoy this toy too and all its accessories. He's the size of a real hamster, a similar weight and makes rather cute noises (if I'm honest) when you press his nose or back – the back button also activates his little wheels. And boy, does he move fast, darting backwards if he runs into a wall (or Mum's foot). In all, he's just plain fun.
While there's quite a lot of Zhu Zhu's to choose from

there's just as many accessories and playsets too.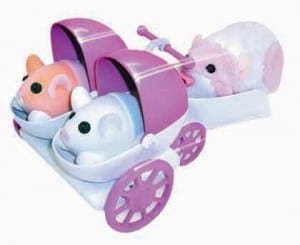 The Zhu Zhu Pets retail for $20 each and the accessories range in price. They are available at Target, Kmart, Big W, Toys R Us and all major toy retailers.
You must be wondering what we're going to do with the extra hamster and Adventure Ball.
Well, your little one has the chance to win them.
To go in the draw to win a Zhu Zhu Pet and Adventure Ball accessory, leave a comment telling us your favourite toy as a child (even if it was a box and string!). The giveaway closes Sunday, August 7 at 7pm and a winner will be drawn randomly and announced on this blog and via Facebook and Twitter. Australian residents only. Limit of three entries.
Want extra entries? Then here's how you can up your chances in the draw. Each task is worth one extra entry, but must be included as a separate comment (or it won't count).
Click the Facebook button below and share this giveaway with your Facebook friends. Then leave a separate comment saying something along the lines of "I've shared this on Facebook''.
Click the Twitter button below and share this giveaway with your Twitter followers (Twitter handle is @ThreeLil). Then leave a separate comment saying something along the lines of "I've shared this on Twitter''.
**DISCLAIMER: I received a Zhu Zhu pet and Drive In Movie accessory for review. All opinions expressed are purely my own.
For another chance to win, check out Naomi's blog. She has a pet and another rather cool accessory to give away.


Hosted by Three Lil Princesses and Tina Gray {dot} Me