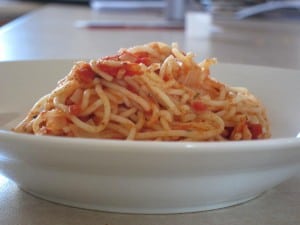 IN THE midst of trying to find what I was Thankful For so I could be part of Kate Says Stuff's meme for the first time, I discovered this Smoked Salmon and Tomato Pasta recipe in the archives. I previously used it as a guest post for the lovely Dannie from A Dose of Dannie some months back. However, I can't help but want to share it on my blog too, with just a little bit of a change.
There are a few reasons I'm thankful for this, my all-time favourite dish:
It gives me a pick me up every time I eat it.
It uses Tasmania's finest export – salmon. This is why I love this State.
As I said previously, it's devoured by our three-year-old faster than bikini bottoms on Kirstie Alley. Who created the child with expensive taste?
So, without further ado, here's the recipe. You'll be thankful you follow the blog after this one. *wink wink*
Smoked Salmon and Tomato Pasta
INGREDIENTS:
100g sliced Tasmanian smoked salmon
1 Tablespoon mixed herbs
Juice from one lemon
Olive oil
1 onion, finely chopped
1 garlic clove
400g tinned diced tomatoes
Pepper
2 teaspoons sugar
375g angel hair spaghetti
METHOD:
Cut the salmon into strips and mix with herbs and lemon juice. Saute the garlic and onion in olive oil. Add tomatoes, sugar and pepper. Cook for 5 minutes.
Meanwhile, cook pasta and drain. Mix pasta into the tomato sauce with half the smoked salmon. Garnish the top of the dish with the remaining salmon.
Note: Pre-kids we added a little chilli to give it some spice, but it works just as well without.
What dish are you thankful for? Which one gives you a pick me up?
Linking up with the lovely Kate Says Stuff's Thankful Thursday. Click on the link to find out what others are thankful for this week.