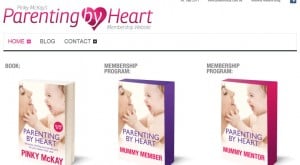 AS YOU all know, I'm a huge fan of author Frans Plooij, who penned the international bestseller, The Wonder Weeks. That book that has stopped me pulling my hair out more than once over the past year. It turns out, Australia's best selling baby care author Pinky McKay is also a fan.
Pinky was fortunate to score an interview with Frans for her mummy support membership program, Parenting By Heart. Many of you will already be familiar with her main site www.pinkymckay.com.au.
Pinky emailed to say she's keen to share the interview with the Three Li'l Princesses readers. To access the interview, you'll need to sign up as a member. Lucky for you all, she's offering the chance to win three 12 month memberships to the site, so you can access the interview – and more!
The catch is you'll need to get in quick, as her interview with Frans is tonight at 7pm AEST!
So, to enter, simply:
* leave a comment saying why you would like membership to Pinky McKay's Parenting By Heart website.
Then, we'll announce the three winners here, on the Pinky McKay Facebook page and Three Li'l Princesses Facebook and Twitter pages at 6pm.
AND THE WINNERS WERE…
Laureny, Amie and Sarah! Congratulations ladies. Enjoy tonight's chat and the 12-month subscription!