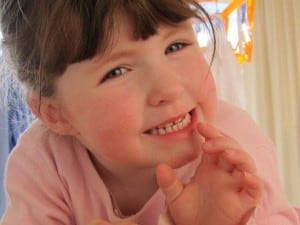 AFTER mistaking her teacher for the woman with the umbrella who flies, we finally arrived at "big girl school'' on Friday for Princess Ella's first pre-kindy session. While I suffered heart palpitations in the corner, she strolled in, threw her drink bottle in my bag and headed straight for the pretend play area to hang the washing on the line. If only she'd do that at home.
This has been our big win of the week. To be honest, we kind of already knew there would be no tears involved. There were a few reasons for that:
Ella knew the session would only go for just over an hour. Although, she did plead for "just five more minutes, Mum'' at the end.
Half her childcare friends were there. That's cheating, I say.
She has her father's confidence. While I struggle to make small talk (yes, watch out at the Bloggers Brunch next month), Ella will happily tell you her name, her age, her sister's name and both their toilet habits for the morning.
Mums or dads (or in our case both, because The Bloke in The Shed hates missing out on things) have to stay with the child. And Baby Holly had a wow of a time eating the orange and green play dough.
Two days a week at child care has helped develop her social and coping skills beyond what I ever had as a kid. I recall tears on the first day of high school because I was the last of the Grade 7s left standing outside after the big kids forgot to get me for home group. (Just the thought of that is making my eyes well up).
She gets to do ABC Reading Eggs, which she is obsessed with. Except, after using my laptop's touch pad, it was hilarious to watch her flicking her finger on top of the Apple Mac mouse and wondering why the cursor wasn't moving. "Mum, this thing's broken''.
Ella is not yet four, so obviously young in the eyes of interstate mums whose children don't start for another year. Although, in the end, a large part of it comes down to the type of person she is. Clingy Holly may be a whole other story…
Anyway, enough about school. Let's rack up a few more wins for the week by clicking on the links below.
If you're a blogger or business wanting to take part in the Aussie Giveaway Linkup:
Only link directly to the giveaway post/s and include the prize and end date in the linky tool below. Link each giveaway separately.
Giveaways must be open to Australian residents.
Grab the button to add to your post.
A new list is added each Sunday so bloggers need to add their links weekly. NOTE: The linky will now be open until Fridays.
Start entering the giveaways!

Hosted by Three Lil Princesses
How did your little one go starting kindy or pre-kindy? How did you feel about the experience as a mum?