TODAY I was hoping I'd be posting about what I was going to wear when I met Princess Mary next week. Instead, you get to hear about another Tasmanian princess – the Princess Theatre at Launceston in the State's north – as part of the My Tasmanian Backyard series. Yesterday The Bloke in The Shed received an invite (plus one – aka me) to lunch with Prime Minister Julia Gillard (yeah, whatever) and Crown Princess Mary of Denmark (woohoo!).
Except he declined. What? I know. It seems getting from Tasmania to Canberra and back in the hours the girls are in childcare is just a bit beyond Qantas, Virgin and Jetstar.. Why did I have children again?
So while I've just forgone an entire week's worth of princess posts, here's a post about a more child friendly princess that will still tickle your fancy. And might I add that she turned 100 this year. She's looking mighty fine for an old duck.
On Sunday she hosted fairies. Now you wouldn't get that in Canberra. Actually, maybe you would. The fairies in question happened to be THE Fairies – Harmony, Rhapsody, Fairy Minuet, Barnaby, Elf and Wizzy.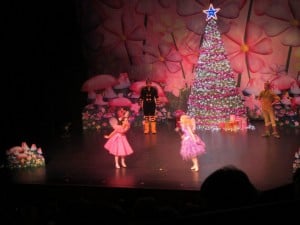 Oh, and Santa. Anyone would think the big guy in red was part of The Beatles, considering the reception he received.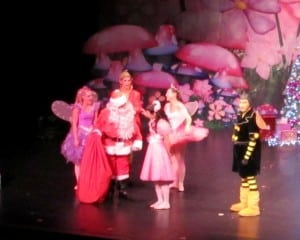 The old theatre is exactly what you'd expect to see in most cities – old grand buildings with exquisite detail,
elaborate seating, beautiful lights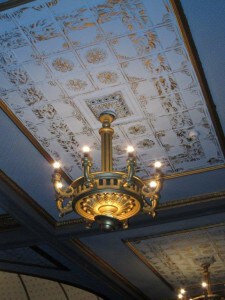 and red velvet curtains. The Princess Theatre, under the Theatre North umbrella, has featured some of my favourite concerts while an entertainment journalist. We usually got treated to far better seating than we did on Sunday too.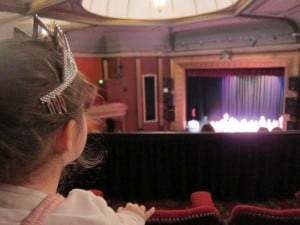 See the dots on the stage? To be honest, despite being as far back as was possible (because someone booked the tickets too late), our vantage point was still impressive. This wasn't our first concert at the theatre this year either, having also watched The Wiggles. You've got to love a man in a skivvy.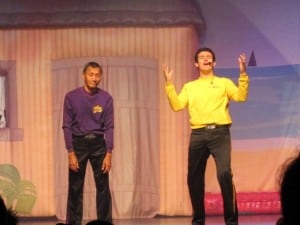 And a dinosaur in pink.
Conclusion:  Entertainment buffs will enjoy the variety the theatre offers, with everything from children's entertainment, theatrical performances, concerts, comedy and school productions. There's little fear of numb bum with comfy seating and the slope of the theatre making viewing easier – important for someone who's shorter than a Melbourne jockey.
Highlights: Seeing Ella have the entire aisle to herself to bust a move. If only Rhapsody was close enough to see her triple twist, which led into a back flip and finished with the splits.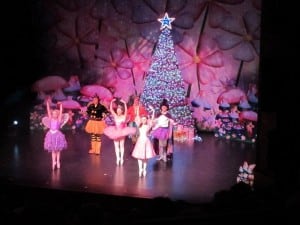 What does it cost: This depends on the show. See the site for the latest concerts and prices.
Attractions nearby: For The Wiggles, we arrived early and had a picnic at City Park – also known as the Monkey Park to locals. It has plenty of area for the kids to run around, Japanese Macaque monkey enclosure, a miniature train for children to ride on, duck pond, barbecues, play equipment, clean toilets and the John Hart Conservatory. It's within walking distance to the theatre.
How to get there: 57 Brisbane St, Launceston.

View Larger Map
LEARN MORE: Visit the Theatre North website for shows and bookings or the Facebook page.
DISCLOSURE: Not necessary for this post.
What shows have you seen and enjoyed with your children this year? Do you have a favourite venue?