BREAKFAST has suddenly become a big deal in this house. And I'm not talking about the fact I have breakfast once in the morning and again about 8pm. That's just normal. Right? The big deal is that when Princess Ella, Li'l Holly and I sit down to breakfast, The Bloke in The Shed now joins us.
We're going on nine years of marriage and during that time I've only seen him eat breakfast a dozen or so times – and it usually involves eggs, bacon and a holiday. So when he started going to a personal trainer to find a thinner version of himself, he came home the first night announcing "apparently I'm not doing myself any favours by skipping breakfast''. Really? You don't say. (Sorry, can't help the sarcasm).
The fact Li'l Holly and I were flown all the way to Adelaide this week for breakfast just shows you how important it is. OK, so the trek was for a Kelloggs Bloggers Brunch, but still. The aim of the event was for Kelloggs to garner input from mums on its brand and breakfast in general.
The breakfast topic for me was the search for a transitional food now Holly has moved from baby rice through to "big girl cereals''. I had to confess that the princesses have been brought up on a diet of porridge and the cereal that starts with W and ends in X. Well, what other options are there?
At the bloggers brunch, as I was deep in conversation with the hilarious Lucy and fresh from The Morning Show Jodie, a packet of Sultana Bran Buds was pushed under my nose. So I pushed some under Holly's nose. She devoured the lot. Jus like a snack. While Kelloggs has gained a bad rap (and still is from some corners for its so-called pester power), the company has capped the amount of sugar its new products contain. So, while I'm not advocating eating Coco Pops every morning, some of its newer additions can eradicate early morning mother guilt – or boredom if you've been lacking brekky inspiration. Like me.
Breakfast is important. And if I had to choose my final meal, it would be a bowl of cereal. A bowl of Be Natural Pink Lady, Flame Raisin, Fruit Flakes and Clusters cereal to be precise. And, just so you know, Be Natural is part of the Kelloggs stable. That's a coincidence, I promise.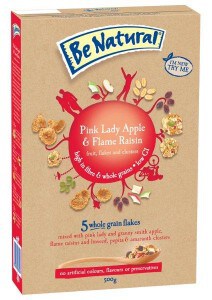 What generally gets served up at brekkie time in your house – if anything at all? And what would your last meal be?
PS. So sorry, but I didn't take photos at the event. Something to do with carrying a baby around. But you can see a whole host of gorgeous shots of the mum bloggers and Holly on Flickr. Or you can just visit the blogs of mother to a tribe Tatum, super sweet (without using sugar) Alyce, the girl with the awesome name Kellie,  Kelloggs new product development team member Bianca, all-natural Cat, Super Nanny educated Glowless, too funny for words Georgia and my roomie and inflight entertainment Louisa.