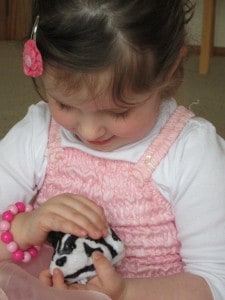 IF YOU missed yesterday's laugh, I mean post, you would have missed the original Christmas song I wrote and recorded all the way back in 2004. It's a cracker. Or it will crack you up, one of the two.
Anyway, yesterday Princess Ella and I decided to recruit some help and tackle one of our all-time favourite Christmas carols, Silent Night – a capella. Of course, I should have already known trying to get two Zhu Zhus and a four-year-old giggling girl to cooperate would be challenging, but this is the end result:

I know the Zhu Zhus would have been better stuffed into a bag for all the help they provided with harmonies. Actually, to be honest, they're not a bad idea if you're looking for a stocking filler. Well, that's what Ella will find in hers, anyway.
Apologies for the quality of the video and that darn date in the corner. First attempt at recording via the laptop! Yes, welcome to amatuer hour.
Are your children obsessed with Christmas carols as much as mine is at the moment?
Linking up Shae from Yay for Home's Things I Know. Make sure you click to learn what others' know.


DISCLOSURE: I am a Zhu-Fari mummy blogger ambassador.