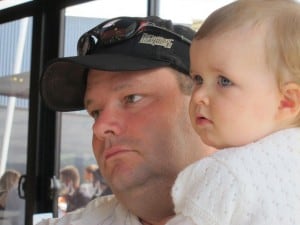 By The Bloke in The Shed
Li'l Holly has had to play second fiddle in a number of ways. For me as a dad, brutally honestly, I simply have not had the chance to bond with her as I did with our first born, Princess Ella. It's second-child syndrome.
Ella and I spent a vast amount of days alone giving mum a break. It was fantastic. Hence, we know each other completely (which can also be a negative because we also know how to push each other's buttons).
Li'l Holly's arrival in the world coincided with mum stopping work, an increase in my work-life responsibilities and throw in a big sister for good measure.
Normally, when Holly and I are together and mum is having some "mum time", the baby of the family also has to compete with Ella for my attention …. let me tell you, not many successfully compete with Ella in the attention stakes.
Yet this month saw Holly and I spent our first true day together. Ella was in care, I was on holidays and mum needed some time to do PR and blogger stuff, so Holly and I got the chance to spend the day alone. It was nothing short of fantastic.
It's not to say we weren't close before, but we haven't had a chance to forge the incredible bond Holly has with her mother. Whether by nature or nurture, Holly is one strong-willed individual. Where Ella warms to people and people warm to her instantly, Holly almost looks at people as if assessing their entire life history. It takes a lot to earn her trust.
While I love her with all my life and every breath she takes, that day alone I know helped us grow our relationship as father and daughter immeasurably. Or, it could have been the awesome Kiss Biscuit we shared at the local bakery? Whatever. Long may it continue.
Do your children get dad and daughter/son time regularly?