If you have a husband/partner/boyfriend contemplating having a vasectomy, this post may help answer some questions and shed some of those fears. WARNING: If operations make you squirmish, probably best not to read this one.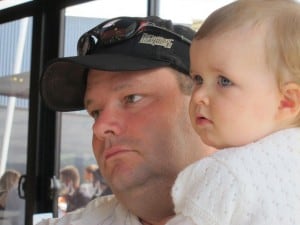 By Julian O'Brien
The anaesthetist peered down at me as I lay on the table. "You're lucky it's a hot day,'' he said. Puzzled, I shot him a questioning look. "Well, it makes the operation go quicker if things are hanging low and not retreating,'' he said. And that was the last thing I remember.
Waking up what seemed like hours later after my vasectomy, which happened on the morning of the Labor leadership challenge, I was ashamed my first slurred words on waking were … "so, is it Julia or Kevin?''. Yep, weird I know – not entirely relevant to the situation I found myself in.
Sitting in my robe awaiting the surgery, it had seemed like an eternity to get to that point. Truth be told, it was. You see, Princess Kel and I had talked about this a long time ago (even pre-marriage) and decided, should we be lucky enough to get our two children, I would bear the burden of birth control. It's an incredibly personal choice and not for everyone.
One thing is reinforced through the whole process and that is: While there is an outside chance of reversal once done, the operation should be considered terminal for your "little squigglies''. It's not a decision we'd taken lightly and we'd received good advice to take our time with it as I'd spoken about in my first post on the topic.
Strangely, I went in to the operation with very few nerves at all. It was a relatively straight-forward procedure. Post op I sat enjoying a sandwich and a coffee when the nurse said to me, "he (my surgeon) doesn't usually give you any stitches, he just leaves a hole''. At my first opportunity, I grabbed a sneaky look and, sure enough, there was just one single hole. (Can someone pick my wife up off the floor please, she gets a bit queasy).
Anyways, the post-op pain was OK, but I did decide to take a couple of the prescribed painkillers. That feeling was worse than the operation. For the next few hours I laid on the couch watching the roof spin before they wore off and I pledged to stick to nothing but Nurofen from that point.
I've taken the medical advice and taken it relatively easy since. Thing seems to be going OK. The process now? Well, I've got eight weeks to work the remaining "little squigglies" out of the system fully (vasectomy bonus!) before I book a date with a specimen jar and pathology. That's one story I'll leave well alone.
If you have any questions at all, I'm more than happy to answer them.