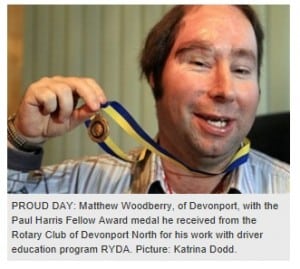 This image is taken from The Advocate Newspaper. Read the full article here.
Matthew Woodberry was a 19 year old with the world at his feet. He had a promising career ahead as a boilermaker/welder and was on track to make Olympic selection in his chosen sport of track cycling. Nothing could touch him.
Then, on Boxing Day in 1999, driving along the highway with a mate, Matthew decided to see if his car could fly. And fly it did. At 200km/hour, his car veered out of control, hit a telegraph pole and rolled.
His head made contact with the ground, resulting in him losing near half of it. With substantial brain damage and a host of other serious injuries, Matthew was taken to Hobart hospital primarily as spare parts for someone else in need. He was not meant to live.
On Saturday night at the Rotary Devonport North changeover dinner, one of Rotary's elite spoke about Matthew's involvement in the RYDA program – Rotary Youth Driver Awareness. Through that program Matthew has now spoken to over 6000 high school students about his accident, the volume of gravel surgeons took from his head, the state of his car after the crash and the long rehabilitation process he still undertakes today. Some of the contents is graphic. And his story has brought seasoned school teaches to tears.
Matthew is also frank about the fact he was never meant to walk or talk again. Although, by all reports it's often hard now to shut him up. And he's finally made it back to the cycling track, going so far as to tie a hand and foot to the bike to make it possible.
After telling this story, and with Matthew by his side, the Rotarian began talking about the Paul Harris Fellow Award, Rotary's highest accolade for individuals and one that isn't given out lightly – especially not to non-Rotarians.
Tears began to fall from each of the faces that adorned the room as everyone realised Matthew was being honoured as a Paul Harris Fellow. While many in Matthew's position hide away, not willing to share their experiences, Matthew regularly relives that horror day again and again. All for the sake of saving one young life; to stop one young driver taking a stupid risk on the road.
Knowing some of the things I did – stupid things – as a young driver, I wish I'd had a wake up call like this. I was one of the lucky ones. As a woman in my life keeps telling me: "my time wasn't up".
At the end of what was an incredibly moving speech, the Rotarian turned to Matthew and said: "Matthew, it's been an honour knowing you". To which Matthew quickly replied: "I'm not dying, you know". While everyone else at the dinner was in hysterics, I'm sure his parents were quietly thinking: "Thank god".
If you have a young person in your life who holds a license, I recommend getting them to attend a RYDA program. It may make them think twice next time they take to the road.
Thinking back to your own youth and the risks you took, what do you worry most about with your children getting older? Is it speeding, drugs and alcohol or something entirely different?