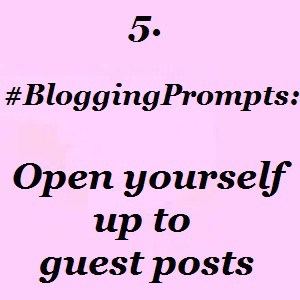 One thing I wasn't so comfortable with in the early days of blogging was opening this space up to other bloggers. Seriously, this is my site – get your own. However, I've also learnt over time that it's a great way to promote and market your blog through others' networks, assist with gaining content you may otherwise have not thought of yourself and the content is generally high quality (we always put the most effort into content we write for others). Lastly, and probably most importantly, it's an opportunity to help grow a fellow blogger's site as well.
To attract guest posts, you could include a "be my guest" page on your site or just include a few lines about accepting guest posts within another page on your site – your About Me page, Advertise/PR page etc. Alternatively, write a post about wanting to attract guest bloggers, do a Facebook or Twitter shout out or directly email bloggers you have in mind.
It's a good idea to give some guidelines on what you're after. Having a guest post series has worked well on this blog, including the Alphabet Photography Challenge last year. I really should get onto creating another series…
So, are you willing to open up your space to other writers? Do you already accept guest posts?
This mini post is part of a regular microblogging series, #BloggingPrompts. 
FREE COURSE
Click the image below to learn how to make money from blogging in this 7-day mini course