The Bloke in The Shed and I spent last night at Horizon Deluxe Apartments at Stanley in Tasmania's far north west – our first night away in three years.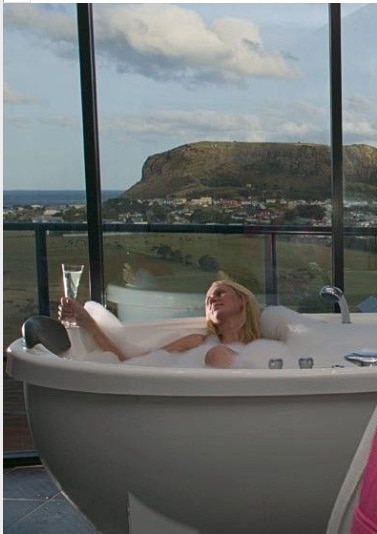 That's not me, by the way. Those photos are to come…
This post has been written prior to us going away, because I wasn't allowed to take a laptop or iPad with me. So I'm just assuming we had a long, hot bath, snuggled up to watch the sun set and dined on dishes featuring local produce from the exquisite restaurant down the road.
While we were ooing and ahhing over the website photos the other night, Julian piped up with: "On Sunday, I'll cook you breakfast in bed and we'll take our time packing everything up to leave.''
Sounded heavenly.
Then:
"Oh, and I forgot to tell you, I've signed us up to a big community walk on the way home that I'm meant to be part of.''
Ahhh….. right!
Blisters on my feet was not how I anticipated ending our relaxing weekend away.
What do you think of Horizon Deluxe Apartments? Who could use a night away right about now?
Please, before linking up, if you could note the new rules. Due to the name of the linky being Aussie Giveaway Linkup, it's important that the links are BY Aussie blogs and the giveaways for Australians.
If you're a blogger or business wanting to take part in the Aussie Giveaway Linkup:
1. Only link directly to the giveaway post/s and include the prize and end date in the linky tool below. Link each giveaway separately. If you need to delete it, hover over your link, wait until the red "x'' appears and click.
2. Giveaways must be open to Australian residents and by Australian-based bloggers or businesses.
3. Grab the button below to add to your post.
4. A new list is added each Sunday so bloggers need to add their links weekly.
5. Start entering the giveaways! Entry is at your own risk. We do not take responsibility for unfulfilled prizes or a blogger/business not abiding by their own terms and conditions.

Hosted by Three Lil Princesses