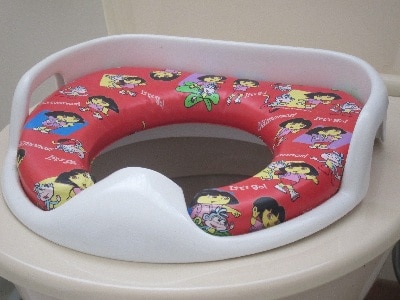 Potty training sends some people… well, a little potty. When we toilet trained Princess Ella just before her second birthday it took all of a week and she was trained. So you can imagine I have these incredibly unrealistic expectations for Li'l Holly, who has started repeating the words "nappies are yuck" and pulling her nappy off to do a nudie run up the hallway at every opportunity.
The real challenge is she doesn't like the turtle potty and only wants the "big girl toilet". This means it's hard to tell if she's actually done a wee on there yet. She has made some lovely facial expressions though as if she's squeezing something out. She is also highly fascinated with wiping her own bottom, even though she hasn't done anything.
So, how are we going to tackle this one?
Dress her in big girl pants when she's around the house so she can literally see when she's done a wee. Then take her to the toilet straight after and give her praise.
Dress her in training nappy pants when out so she can feel she's done a wee, but not make a mess in public.
Put her in proper nappies of a night till she starts to have dry night nappies (although, she's already having dry night nappies – but I'm not taking any chances).
Keep up the praise around her asking to go to the toilet. I'll buy her a unicorn when she finally does that first wee on the loo, I swear.
Taking the fold-up Dora potty seat in my handbag with us everywhere.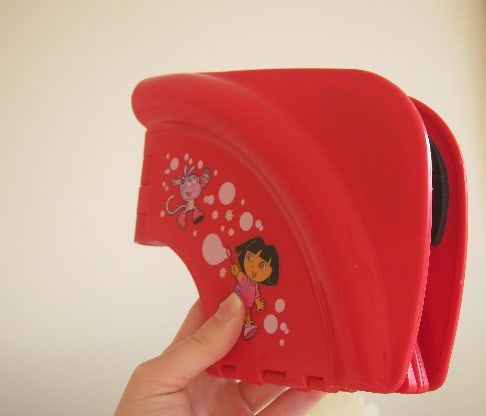 When we went hard with this strategy for Ella we had wee spots everywhere for three or four days. Then nothing. Sure, there was still the odd accident – and the smell of urine in the air for weeks afterwards until we got the carpet cleaner in.
I will be honest and say that No. 2s were a whole other story. That did take a while. One of the tips we were given by a child carer was to sit her on the potty and read her a book. Surpringly, this worked. Whether it was allowing her to relax or just simply slowed her down to give her time to "do her business", I don't know. But I'll be adopting that method again, complete with an appropriately titled Pooh Bear book.
What are your toilet training tips or favourite toilet training products?