Every Thursday morning, we have pancakes for morning tea. When I say pancakes, I mean Australian pancakes, like what your grandmother used to make – flat and crepe-like. Or maybe that was just my grandmother.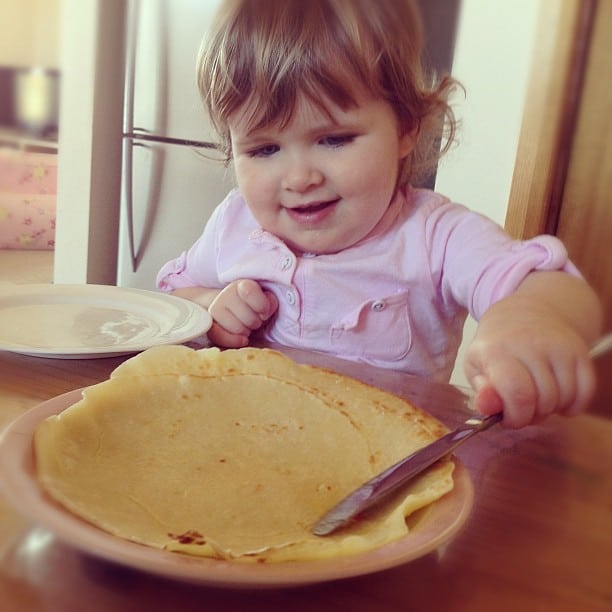 This morning, I decided to put up a photo of Li'l Holly spreading her pancakes with jam and our (very basic) pancake recipe:
1 cup of plain flour
1 cup of milk
1 egg
When we don't have eggs, we replace the egg with one mashed banana. Surprisingly, it works! We then top them with lemon and sugar. Although, being minus lemons this morning, we went for jam.
Underneath the photo, I asked: how do you make your pancakes? Here were some of the responses:
Amanda: 2 Cups SR Flour, 1/2 Cup Sugar, 2 eggs, a splash of vanilla and about 2 Cups of Milk. They come out more like pikelets, but that's the way we like them.
Katrina: as above, but minus the sugar and add lemon juice!!!
Alison: I use SR flour – we like them fluffy and high. I add grated apple and they are so moist and yum.
@KatrinaHigham: I am married to a chef. Ours get complicated with egg whites and baking powder. We do sugar, flour, eggs, milk, baking powder and salt. #fluffy
@GoodGoogs: I add sugar. Does no one else add sugar? We are a maple syrup, lemon and cream kind of family.
@MattJForbes1: Try putting some buttermilk, replace 25% of the milk! Sugar is a must!! Or honey!
So, the question is, how do you make YOUR pancakes?