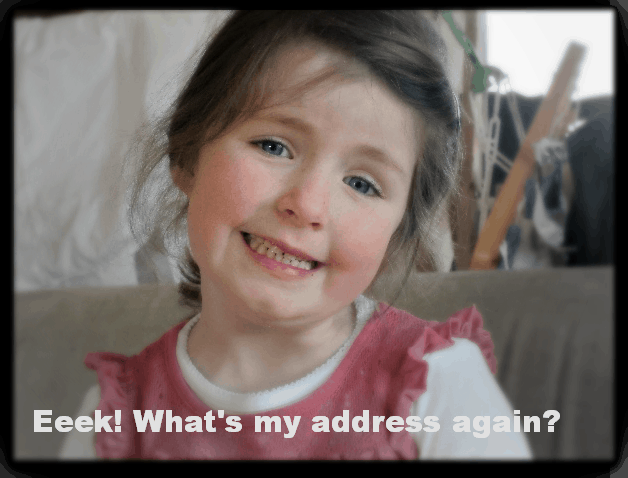 Ella was just three the day I thought I was having a heart attack. Turns out, it was just a bit of indigestion. I may have slightly overreacted. It prompted me to write the post I don't want to leave my daughters helpless about teaching Ella what to do in an emergency.
I posted about it on Facebook and got a host of suggestions on ways to educate them, including the hilarious response from Barb who, after teaching her daughter to dial 000, decided to feign collapse. Instead of ringing for help, her daughter jumped up and down on her guts… not a good result
Ella is now nearly five and learning to read, so I thought it was time we updated our emergency plan. If you can recall, the ringing Dad bit was easy. If Dad didn't answer, then teaching her to ring 000 was fine too.
It was this conversation that was worrying:
Where do you live, Ella?
Ella: "Hippopatmus Drv, Devonport (not our real street address, in case you were wondering!)''. That's fantastic, except we're missing the all-important house number.
"I don't know.'' After explaining that, yes, it's seven, we tried again.
"7 Hippopotamus Dve, Hobart''. What? OK, so we'd just been to Hobart for a holiday. Let's try again.
"Devonport'' OK, what about the rest of the address? Try again.
"Um, I can't remember.''
Challenging? Just slightly!
While she knows our address well now, I've created an emergency plan with the crucial name and address on it incase (heaven forbid) she draws a plank under pressure. At least if she forgets her address or struggles reading the words on the plan, she can spell out the letters!
Here's a downloadable version of our plan  (with three options depending on your phone) to take your child through the process of:
1. Finding the phone:
2. Dialing the number
3. Pressing the "call" button
4. Speaking to dad/mum
5. If dad/mum doesn't answer, hang up and dial 000 and press "call".
6. Then, for those children that can read, having their name and address clearly written.
Click the image or the links to download a copy of the one relevant to you, print and stick near your phone.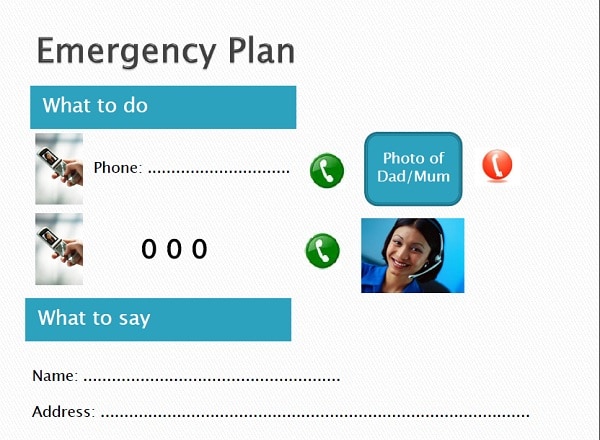 1. With the phone number, then the call button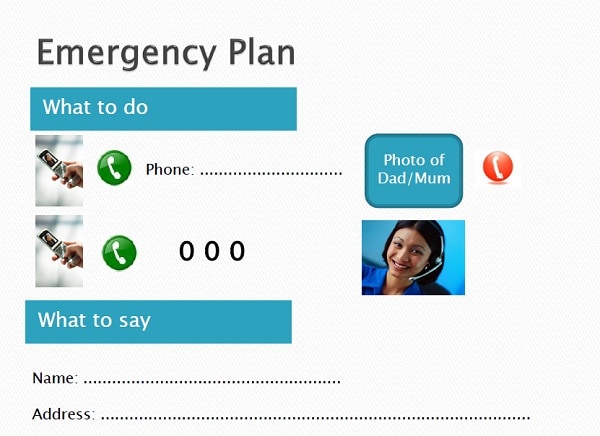 2. With the call button, then the phone number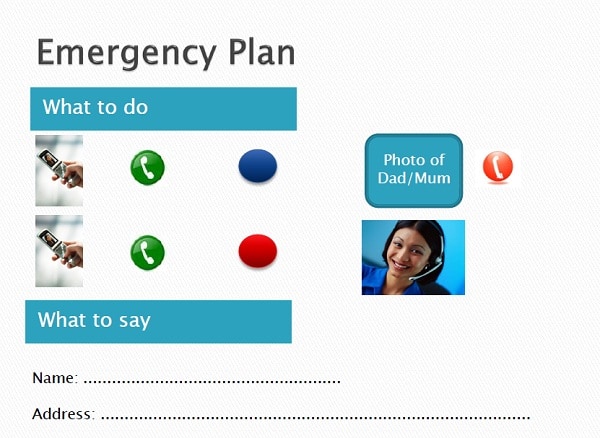 3. With a coloured dot to signify programmed numbers (you can place coloured dots on the number son your phone).
Other tips from readers:

Place important numbers on speed dial. For example, Dad is 1, Mum 2, Grandma 3, 000 is 4…
Again, use speed dial, but replace the number with coloured dots. Use Dad's favourite colour.
Place the coloured dots on the numbers on the phone and pictures of each person on the fridge with their colour next to them.
Teach kids to call "triple zero'', rather than "triple O". With text messaging so big these days the young are trying to dial "666″ – ie the letter "o" button!
When teaching children their address, ask them questions as you're driving home. For example, "now we're turning in to our street. Which street do we live in?'' and count down the houses till you get to your house. "What number do we live at?'' and "what colour is our house?''
Have you taught your child what to do in an emergency? What are your tips?