Choose the hardest cake you can possibly find to make.
Combine the ingredients, stand back and smile at the resulting perfection you've achieved with your mixture. Place in tin.
Check cake midway through cooking, only to topple the whole thing over in the oven. The oven cleaned painstakingly by your husband only a week before.
Start from scratch. Find yourself doubting the consistency of the mixture because you've rushed it.
Put the cake in the oven. Stay 10 feet away from the oven for entire 1.5 hours of cooking. Worry about the result for entire 1.5 hours of cooking.
Take the cake out of the oven. Be concerned by the crystalisation on the top of the cake.
Turn the cake out onto a cooling rack. Be concerned about the colour of the cake.
Spend the entire day playing with fondant while you decorate the cake into a masterpiece.
Make a batch of cupcakes as a backup in case the cake is inedible.
Day of the birthday: Watch people ooh and aah over the cake.
Cut the cake. Nervously. Offer a piece with a large dollop of apology on the side. Followed by: here, have a sausage roll.
Receive (surprisingly) wonderful feedback about the taste of your cake.
Hide the cupcakes.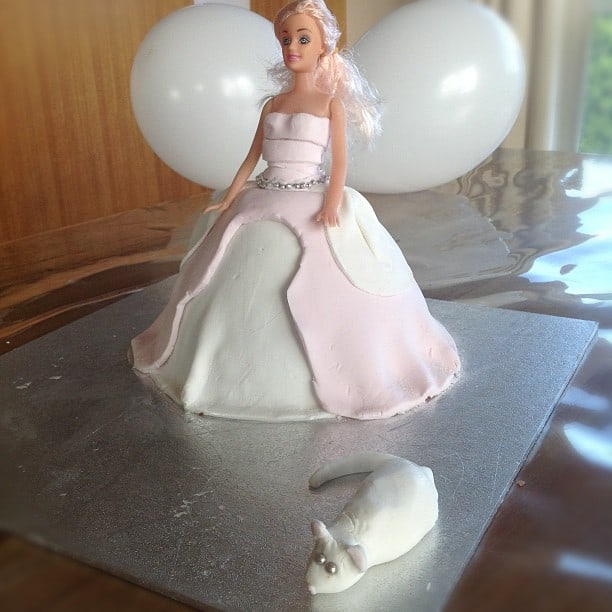 That all counts as a win to me! OK, onto some other wins in this week's Aussie Giveaway Linkup.
If you're a blogger or business wanting to take part in the Aussie Giveaway Linkup:
1. Only link directly to the giveaway post/s and include the prize and end date in the linky tool below. Link each giveaway separately. If you need to delete it, hover over your link, wait until the red "x'' appears and click.
2. Giveaways must be open to Australian residents and be run by Australian-based bloggers or businesses.
3. Grab the button below to add to your post.
4. A new list is added each Sunday so bloggers need to add their links weekly.
5. Start entering the giveaways! Entry is at your own risk. We do not take responsibility for unfulfilled prizes or a blogger/business not abiding by their own terms and conditions.

Hosted by Three Lil Princesses