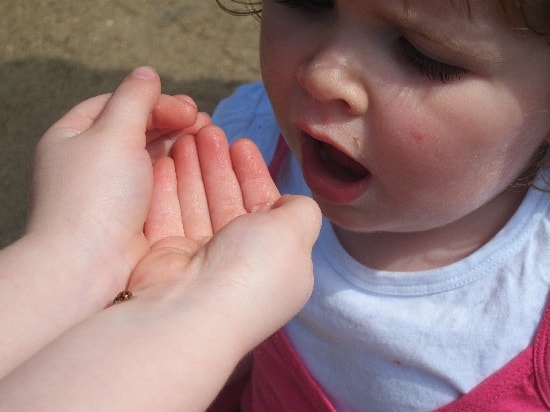 Holly was much more comfortable with the ladybird Ella had.
The Aussie Giveaway Linkup couldn't go past sharing a funny story this week.
Friday night, the girls get to shower with their dad. It's a big event here. Yes, and I know how sad that sounds.
This Friday, while Julian was holding Holly and washing her face under the shower, she sang out "Spider Daddy, spider''. Julian, who hates spiders and always asks me to dispose of them, squealed out in an equally high-pitched voice: "Where?'' She then proceeded to point to the inside of his nose.
It seems she thought his nose hairs were spiders. Looks like Julian is getting a spider trimmer for Christmas!
OK, onto some more wins.
Aussie Giveaway Linkup instructions:
If you're a blogger or business wanting to take part in the Aussie Giveaway Linkup:
1. Only link directly to the giveaway post/s and include the prize and end date in the linky tool below. Link each giveaway separately. If you need to delete it, hover over your link, wait until the red "x'' appears and click.
2. Giveaways must be open to Australian residents and be run by Australian-based bloggers or businesses.
3. Grab the button below to add to your post.
4. A new list is added each Sunday so bloggers need to add their links weekly.
5. Start entering the giveaways! Entry is at your own risk. We do not take responsibility for unfulfilled prizes or a blogger/business not abiding by their own terms and conditions.

Hosted by Three Lil Princesses