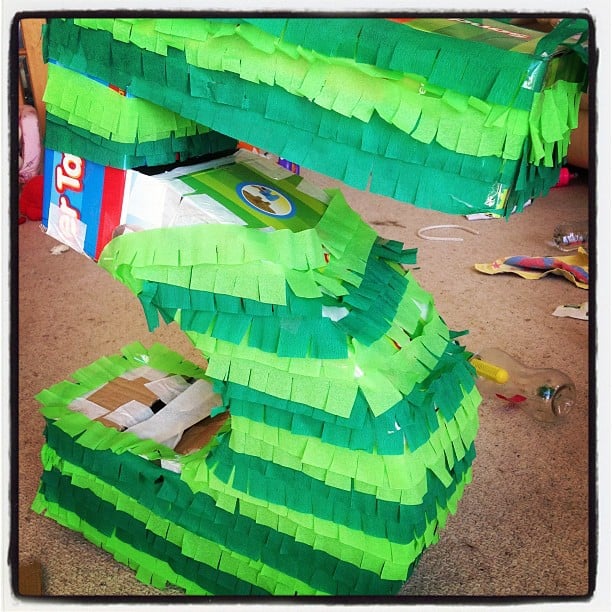 The pinata before it was finished…
Sometimes the girls play this game of "face paintings'', where they use their finger to "draw'' on each other's faces. They paint butterflies, rainbows, puppy dogs, a Dualis Ti… Don't ask!
Anyway… while trying to build a Wizard of Oz piñata for Ella's birthday party, which was yesterday, the girls got bored and went off to play together. I sang out to ask what they were doing and they responded with:
Ella: "We're face painting, Mum.''
Holly: "Face paint.''
Me: "OK girls, that's fine."
Ten minutes later, when I figure I'd best check on them, here they are with pen all over each other's faces. It's fair to say there's not a lot of eye makeup remover left in the bottle.
Have your children done this before? Or given themselves pen tattoos?
PS. A tutorial of the pinata is coming…
OK, enough of the losses and now onto some wins.
Aussie Giveaway Linkup instructions:
If you're a blogger or business wanting to take part in the Aussie Giveaway Linkup:
1. Only link directly to the giveaway post/s and include the prize and end date in the linky tool below. Link each giveaway separately. If you need to delete it, hover over your link, wait until the red "x'' appears and click.
2. Giveaways must be open to Australian residents and be run by Australian-based bloggers or businesses.
3. Grab the button below to add to your post.
4. A new list is added each Sunday so bloggers need to add their links weekly.
5. Start entering the giveaways! Entry is at your own risk. We do not take responsibility for unfulfilled prizes or a blogger/business not abiding by their own terms and conditions.

Hosted by Three Lil Princesses