Sponsored post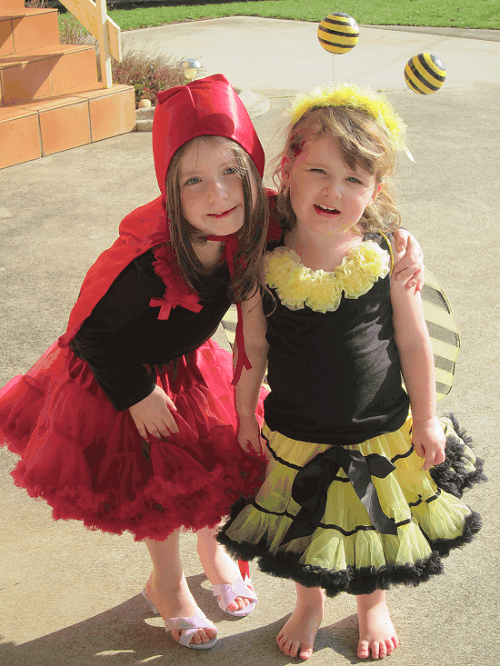 When I was a kid, I had one dress up outfit. It was a horrible-fitting clown costume. I'm sure I have a photo of it here somewhere. My sister had a beautiful nurse's outfit with matching medical bag. I think I got duped on that one.
Basically though, that was all we had.
Girls dress up ideas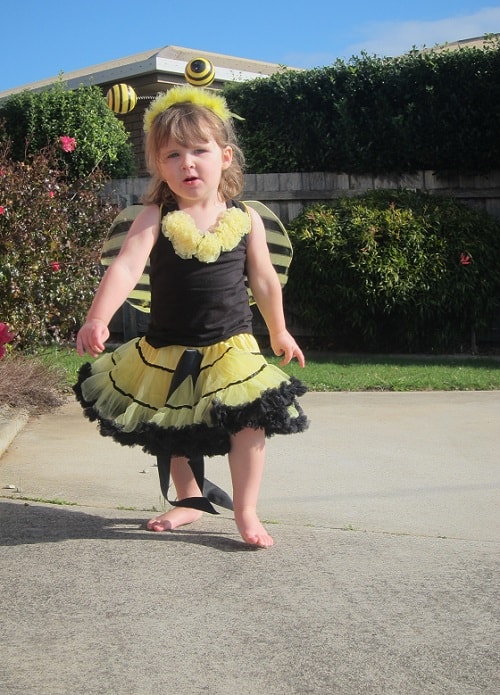 Now, inside the girls' playroom, is a giant dress up box full of every occupation, animal and fairytale character you could imagine. They're obsessed with dressing up and putting on shows.
Those outfits can range from The Bloke In The Shed's trackies with my high heel shoes (always a great look!) to a full blown Cinderella outfit with matching handbag, tiara and slippers.
Even for her 5th birthday, Ella chose a blue and white checkered dress and red ruby shoes like Dorothy for her Wizard of Oz party. She just had to dress up.
Why I'm a supporter of kids dressing up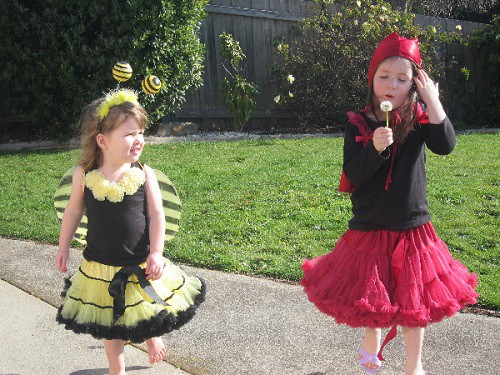 I'm a big supporter of kids playing dress ups, because it helps:
 Foster their imagination.

 With empathy – apparently!

Role playing and gaining skills for their future

Working through different emotions and relationships they may be experiencing.
As a parent, I always think it's an interesting insight into what's going on inside those little heads. And probably throws back a little of how I act as a parent too. I really do cringe when they play mums and dads.
Dress up inspiration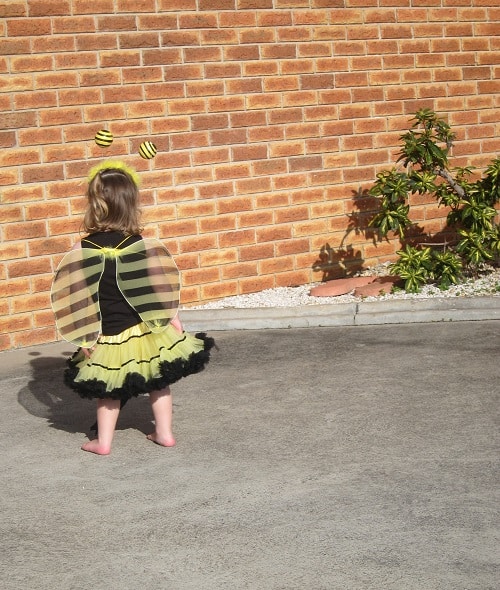 Last week, online store Fairytale Treasures sent the girls two outfits – Ella a Little Red Riding Outfit and Holly a bumblebee outfit.
It was a hard decision for Ella, who also had her eye on the zebra, leopard and cowgirl outfits from the girls dress up range. The store is focused on fairytale-inspired outfits and dress ups and really appeals well to the different age groups. There is also full ranges for boys and girls.
Along with being impressed with the quality, I love how the dress up clothing is versatile enough to be worn for everyday wear. Ella wore her black Red Riding Hood top with a pair of jeans and it looked fabulous. She's now asking can she wear the skirt for dancing next week.
Similarly, Holly was able to wear her bumblebee top with white trousers. She also wants to wear the skirt everywhere. Or rather, dance in it everywhere.
If you're looking for quality dress up clothing for your children's dress up box, need something for Halloween coming up, ideas for birthday parties or need some Christmas gift inspiration, I'd highly encourage you to check out http://www.fairytaletreasures.com.au/
Make sure to like the Fairytale Treasures Facebook page and sign up to their newsletter to keep up to date with new items. You can also follow Fairytale Treasures on Pinterest and Instagram.
Do your children love dress ups? Do they have a favourite outfit?
DISCLAIMER: I was paid to write this post. All opinions expressed are purely my own.