It's a short and sweet blog post this week. Here's a photo of me and the girls at Anzac Park at Ulverstone, here in North West Tasmania. Spring is definitely in the air. Bring on tomorrow.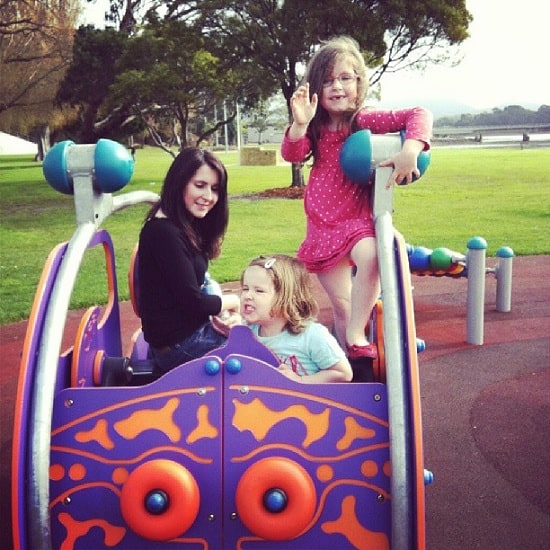 This park holds special memories for us, because it was where we played when we were kids. Our beloved rocket and spaceship climbing equipment are now locked up for safety reasons (I must take a photo of them next time), but the girls get a kick out of still being able to see what once entertained us.
Oh, and before we get onto this week's linky, a huge happy Father's Day to all the dads out there. The Bloke in the Shed has plenty of treats in store tomorrow.
Do you have a favourite park? What do your kids love most about it?
Now, onto this week's Aussie Giveaway Linkup…
Aussie Giveaway Linkup instructions:
If you're a blogger or business wanting to take part in the Aussie Giveaway Linkup:
1. Only link directly to the giveaway post/s and include the prize and end date in the linky tool below. Link each giveaway separately. If you need to delete it, hover over your link, wait until the red "x'' appears and click.
2. Giveaways must be open to Australian residents and be run by Australian-based bloggers or businesses.
3. Grab the button below to add to your post.
4. A new list is added each Sunday so bloggers need to add their links weekly.
5. Start entering the giveaways! Entry is at your own risk. We do not take responsibility for unfulfilled prizes or a blogger/business not abiding by their own terms and conditions.


Hosted by Three Lil Princesses