Thursday was Holly's third birthday, which meant much of this week was spent scrolling through Pinterest to come up with a cake idea.
She REALLY wanted Peppa Pig, but I REALLY wanted to keep things simple this year. Not like last year's Cinderella Dolly Varden birthday cake.
So, this is what I came up with: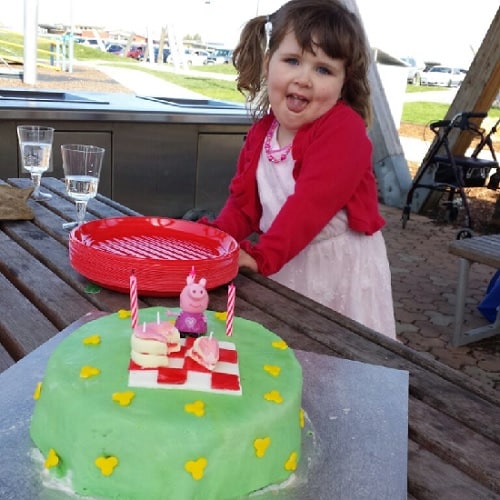 Not much to it!
I have to admit, I didn't really know what cake I was going to create until the cake itself was cooked. Living on the edge, I know!
I'll do a tutorial for the blog during the week, just with some little tricks I picked up along the way. Plus there's a few things I'd probably include if I'd had the time (like lollypops or cake pops for birthday balloons).
What do you think?
Now, onto this week's Aussie Giveaway Linkup…
Aussie Giveaway Linkup instructions:

If you're a blogger or business wanting to take part in the Aussie Giveaway Linkup:
1. Only link directly to the giveaway post/s and include the prize and end date in the linky tool below. Link each giveaway separately. If you need to delete it, hover over your link, wait until the red "x'' appears and click.
2. Giveaways must be open to Australian residents and be run by Australian-based bloggers or businesses.
3. Grab the button below to add to your post.
4. A new list is added each Sunday so bloggers need to add their links weekly.
5. Start entering the giveaways! Entry is at your own risk. We do not take responsibility for unfulfilled prizes or a blogger/business not abiding by their own terms and conditions.

Hosted by Three Lil Princesses