As you probably gathered, there was no Aussie Giveaway Linkup last week. We were all exhausted and taking some much needed time out after little Holly was airlifted to the Royal Hobart Hospital with pneumonia and asthma the Sunday prior.
It frightened Julian and I to see how fast everything happened. From going from her usual bright and bubbly self on the Saturday, to cold symptoms on the Saturday night and then being completely lethargic on the Sunday.
On Sunday at 2.30pm she said: "Mum, I can't breathe. I can't breathe''.
Within a few hours of arriving at the Mersey Hospital at Latrobe, we were airlifted to the Royal Hobart Hospital's ICU. The ICU paediatrician was so concerned, he'd contemplated flying to us.
After steroids, antibiotics, nebuliser, oxygen, Ventolin, a week in the children's ward and lots of tears, we were pretty happy to arrive home last Friday. I know many face tougher challenges, including some of our friends, and it makes you feel so much more admiration for the spirit they show.
Today, we headed to McDonalds. Not something we would normally do, but it was important for us to support McHappy Day and the fundraising efforts for Ronald McDonald House. It's only when you get into these situations you realise how valuable these services are.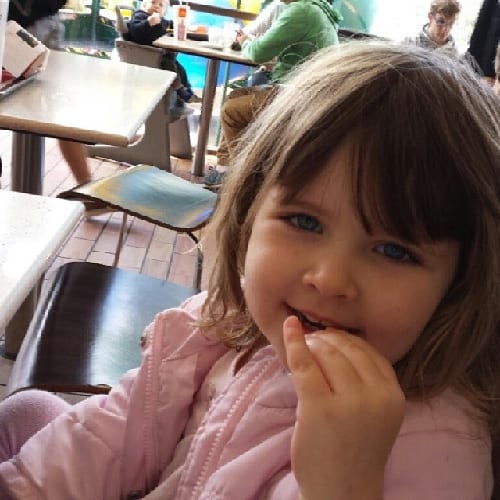 Although, Ella is still fascinated by the fact all the superheroes for McHappy Day were wearing their undies on the outside!
Now, onto this week's Aussie Giveaway Linkup…
Aussie Giveaway Linkup instructions:
If you're a blogger or business wanting to take part in the Aussie Giveaway Linkup:

1. Only link directly to the giveaway post/s and include the prize and end date in the linky tool below. Link each giveaway separately. If you need to delete it, hover over your link, wait until the red "x'' appears and click.
2. Giveaways must be open to Australian residents and be run by Australian-based bloggers or businesses.
3. Grab the button below to add to your post.
4. A new list is added each Sunday so bloggers need to add their links weekly.
5. Start entering the giveaways! Entry is at your own risk. We do not take responsibility for unfulfilled prizes or a blogger/business not abiding by their own terms and conditions.

Hosted by Three Lil Princesses