Sponsored Post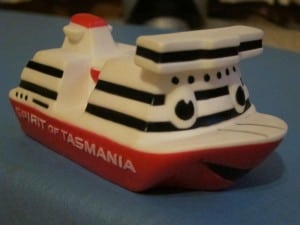 Right now, as I write this, I'm looking out the window at the Spirit of Tasmania sitting out on the Mersey River. It's such an awesome sight on a still night.
It's one of the reasons we first bought his house. You never tire of watching the Spirit sailing in and out of the mouth of the Mersey.
I'm going to be honest and say it's been a while since we last sailed on the Spirit. Pre kids actually. I remember doing a day sailing over and getting to explore the ship, while on the way back we opted for a night trip with a cabin.
A few years back, just before one of our previous trips to Melbourne, Julian was talking to Ella's child carer. Ella repeated her usual "yes, we're going to Melbourne to see Uncle Rick, aren't we Dad?''.
"We hear so much about Uncle Rick. Apparently he has a really big boat?'' the child carer said.
Julian then had to explain that the "big boat'' is actually the Spirit. The child carer had more than a little chuckle at that.
Due to the boat being so visible, there's been repeated requests we go to Melbourne on "Uncle Rick's big boat'' since instead of the plane.
Watching this video I'm questioning why on earth we don't go on the Spirit more often. Especially with trying to organise kids. I know they would think it was such an adventure.
Tell me: do you prefer to fly or sail?
DISCLAIMER: I was paid to write this post. All opinions expressed are purely my own.