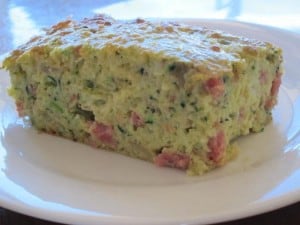 TEN years ago you never would have thought the meat-loving bloke in The Shed would cook up a zucchini slice, let alone actually grow the zucchinis himself.
But he did. Plus, he even grew the onions and garlic that's featured in the recipe too. Frugal, or what?
This is one of the easiest ways to get veggies into Princess Ella.
INGREDIENTS:
¼ cup vegetable oil, plus tablespoon for frying
1 large onion
200g bacon
2 cloves garlic, crushed
5 eggs
1 cup self raising flour
375g zucchini, grated
½ teaspoon curry powder
1 cup grated cheddar cheese
METHOD:
Prehead oven to 170C. Grease and line a 30x20cm tin.
Finely chop the onion and bacon, then lightly fry with the garlic.
Beat the eggs in a bowl until combined, then add flour and beat until smooth. Add zucchini, cheese, curry powder, oil and fried bacon and onion. Stir. Pour into prepared tin and bake in the oven for about 30 minutes.
TIP: For extra veggies, you could add corn, carrots and/or peas.