DURING the week, tweets kept popping into my @ThreeLil Twitter account by northern-based mums battling 30C-plus heat. Here we were rugged up like Eskimos as we toasted our toes by the heater.
With summer momentarily disappearing, it enabled Princess Ella and I to rediscover our list of fun indoor activities. Today I thought I'd share some of our absolute favourites (even though the warm weather seems to have returned).
 Fingernail painting and pedicure:
Ella constantly asks to have her nails painted. She also likes to take over and paint mine. Of course, there's usually more colour on my feet than my nails. My three-year-old nephew loves this activity too, so don't exclude the boys.
Craft table:
The craft table, set up in the corner of the dining room, is constantly filled with pencils, crayons, paper, glue, sticky tape, pipe cleaners, pom poms and well, crafty items. Since Baby Holly came along, it's been my saviour during breastfeeding. A fellow mum also set up a craft table, but had her house redecorated when the phone rang and her three-year-old ran, glitter in hand.
Sometimes Ella gets to play at the "big'' table.
 Hairdressing:
Aided with hair brushes, combs, bands and clips, the conversations usually goes something like this: Ella: "How would you like your hair done today?''. Mum: "Ah, a cut and colour, thanks Ella''. Ella: "No, I'm not Ella, I'm a hairdresser. Would you like a pink and purple colour today?'' Mum: "Yes please, hairdresser. That's exactly what I was thinking''.
Cooking:
Donning her MasterChef apron, Ella's requests are usually M&M Biscuits (recipe to come soon), birthday cake (even when it's not her birthday) and ABC muffins (Apple, Banana and … chocolate, of course).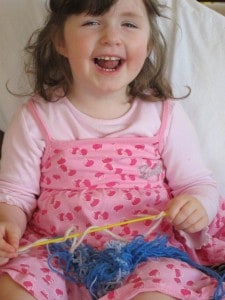 Knitting:
This week Ella asked me to teach her to knit. Sound impossible? Quite the contary. She was thoroughly entertained with her needles and yarn, creating a beautiful big…
…knot! Our next step may be sewing (with glue, instead of needle and thread). She may just be the next international fashion designer.
We also enjoy Play Doh, dancing to music, doing household duties (she loves finding the sock' "mates'' and using her vacuum), taking photos with her Dora camera (see some photos we took together for Sunday Selection), tea parties, babies (although Ella likes to be the baby more often than not), reading books (particularly from the library), singing songs (with pretend microphones), puzzles and playing cards (I taught her to play Fish, but accidentally called it Snap Now she refuses to let me teach her Snap "No mum, that's not how you play Snap'').
Has this left you inspired? Please share some of your favourite activities with your preschoolers.
Visit Be A Fun Mum's Activity Ideas for Children 2-5 or check out her list for Activity Ideas for Children Under 2.