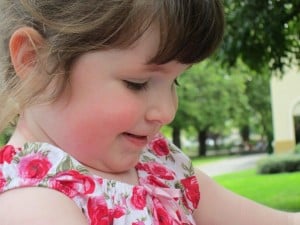 THIS post could easily turn into one of those brag sessions about your kids. God, don't you hate those parents? The ones who go on about all the wonderful things their child can do, while yours is sitting there scratching their bum?
However, this one has to be told because, if anything, it just proves how incredible these little sponges are and why we shouldn't underestimate what they're capable of learning.
Princess Ella is three and, thanks to child care, has learnt skills she couldn't learn at home – basically because her mum just ain't that clever! Sure, I could have taught her to click her fingers and whistle, but it's not something I imagined she could do at age three. But she can, because of her childcarer.
However, what's blown me away most is her learning a new language. Sign language. And I'm not talking about flipping the bird – that's still a few years away.  It's strange to have her teaching me how to do something and then responding with: "Good girl, Mum. That's really wonderful. You're doing a great job''. Patronising, or what?
Speaking to other mums about this via Facebook, it seems they all agree that if their child has a good grasp of the English language, why not allow them to learn another language. Ella picked up a little Spanish from, dare I say it, Dora the Explorer.  One mum admitted her daughter became so good at her "Dora-led'' Spanish, she became extremely agitated when her mum tried to explain the colour was "blue'', when clearly it was "azul''.
To end this post, here's a video of Ella teaching me to sign. Bear in mind, she's a three year old and, just as she keeps strangely pronouncing "hot poppin' popcorn'' as "hotta hotta popcorn'', she may well be getting some of these slightly incorrect (`how are you?' and `good, thank you' look a little too similar). She also wasn't in the most cooperative mood this morning, so it's only a small taste of what she's learnt. I'll try and upload more of her signing later.
If you want to learn to sign or teach your child, then visit the Auslan site.

OK, you now have permission to brag. Has your child grasped a second language? Or do they have a skill you never imagined they could do at their age?