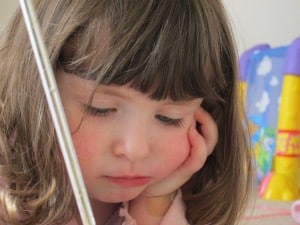 IF YOU think teaching a three-year-old can be frustrating, just wait 'til that three-year-old tries to teach you sign language. Some of you would have already seen the video of Ella teaching me Auslan. And I've mentioned her patronising response of: "Good girl, Mum. That's really wonderful. You're doing a great job''.
Her latest lesson came while she was sitting on the toilet doing her business one night. Out of the blue, she came out with "Daddy, I love you'' and "Mummy, I love you''. If she hadn't been sitting on the dunny, that moment might well have melted hearts.
Rather enthusiastic with my newfound signs, we jumped on the laptop the next day to learn more via the Auslan signbank. Ella pointed at a few words, saying "Mum, let's do that one''. Let's just say every word she seemed to pick was far from kid-friendly. Try booze, boobs and a devise for smoking illegal drugs. However, there was one I just couldn't resist teaching her. You'll have to see the video to find out.

Yes, I'm sure her child carer will thank me for that one. Tomorrow I'll have a video of her signing and singing to The Owl and the Pussy Cat.
Does your child know another language – even if it's Dora's Spanish?
Linking up with Where's My Glow's FlogYoBlog Friday.