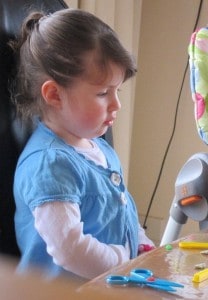 I KNOW that you now know that I have a pretty clever li'l princess. And I don't mean the part about her knowing how to whistle to attract my attention. Although, that is pretty darn clever.
Princess Ella, at the tender age of 3.5 years, has taught me to sign. Surprisingly, we're still talking to each other – and not just in Auslan.
If you didn't visit yesterday and have no idea what I'm talking about, let me recap. Ella's child carer has taught her to do sign language, including: "how are you?'' and "good, thank you''; along with "mummy/daddy/brother/sister, I love you''. Plus, there's the little addition of me teaching her to sign "stinky breath''. You never know when you might need that one.
She's also managed to learn the majority of the nursery rhyme The Owl and the Pussy Cat, which is no mean feat considering I can barely get past the first two lines in the spoken form.
It leads me to the things I know this week:
If you want to learn a bit of Auslan, my daughter is the person to teach you.
Our kids are beginning to outsmart us in so many areas and that scares me.
Every time I turn the video on, loud and boisterous Ella suddenly turns shy.

I'm linking up with Shae from Yay For Home as part of Things I Know. Click on the button to read some other great things you should know.