BABY Holly won't sleep, is clingy, grizzles no end and fusses over everything. That's where we're at right at this moment. However, instead of letting out a *sigh*, a *huff* or showing off a :), I'm jumping for joy. Well, kind of.
You see, amid Baby Holly's Naomi Campbell-style hissy fits, I've been able to finally get my hands on The Wonder Weeks book. No, this is no Fred Savage tale, although The Wonder Years was a damn fine TV show.
Written by Hetty Vanderijt and Frans Plooij, The Wonder Weeks has uncovered the eight "fussy'' phases in the first 14 months of bub's life and shows you how to turn them into magical leaps forward. Yes, those cranky pants baby episodes are bub simply developing new skills. Cool, huh?
We're at the very challenging Wonder Week 26. This one is about relationships, so Baby Holly is beginning to understand that something can be inside, outside, on top, above, next to, underneath or in between something else. Of course, the most important element in all of this is the distance between her and I. When I'm not in the room, all hell breaks loose.
Here's one of the most important pages in the book – the one which shows when the Wonder Weeks are (the fussy periods) and the Sunny Weeks (where they're happy having mastered their new skills and go back to normal). More of those please.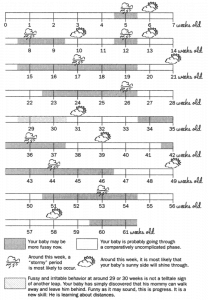 The book, compiled after studying mums and bubs over a long period of time, shows you which games and toys are best for your baby during each key week and how to encourage each leap forward. Of course, it won't turn your baby into a genius. Drats!
Here is a quick guide to each Wonder Week, but really you should check out their website The Wonder Weeks (they even have a leap alarm to sign up to) and grab a copy of the book. I've been a bit stingy and borrowed mine from the library, but I may just have to buy a copy (and the more updated version goes through to toddlerdom).
Wonder Week 5: The World of Changing Sensations
Wonder Week 8: The World of Patterns
Wonder Week 12: The World of Smooth Transitions
Wonder Week 19: The World of Events
Wonder Week 26: The World of Relationships
Wonder Week 37: The World of Categories
Wonder Week 46: The World of Sequences
Wonder Week 55: The World of Programs
Now you know when to lock yourself inside the house and ban all visitors. Or put a sign on the door saying: Beware: feral baby inside.
I'll give more detailed info on each as Baby Holly experiences them. So first, here's what we're doing to help her development during Wonder Week 26:
Reading more books, as Holly is now more interested in them
Playing with our stacking blocks (building towers and showing how they fit inside each other).
Singing and talking to her when I leave the room, so she knows I'm still there.
Encouraging her movement (some babies can now start crawling), by giving her plenty of floor time and doing exercises with her arms and legs.
For more information, I have reviewed the book and had author Frans Plooij guest post. You can also buy the book (affiliate link).
Have you heard about The Wonder Weeks? How do you cope (or not cope) during your baby's fussy periods?