THERE'S cause for celebration on the blog today. We're talking champagne popping and streamer throwing kind of celebrations. One of my fave mummy businesses has been named as a finalist in the AusMumpreneur Awards, conducted by connect2mums. My Posh Baby Boutique was selected for the Customer Service Award and Best Boutique/Store. Yes, it doesn't do things in halves.
If you missed our last review and giveaway or haven't heard of My Posh Baby Boutique before, the business was started by work at home mum Samantha Bellas to offer children's designer labels that were fashionable, unique and had an element of exclusivity to Australians. Its slogan "putting big smiles on little faces'' stems from Samantha only selling items she's head over heels in love with.
To celebrate (other than the virtual champagne and streamers), Samantha offered Princess Ella and Baby Holly items from her popular Mud Pie range. I know! How spoilt are we? This time it was the cute Ribbon Ruffle Dress and Ribbon Ruffle Bubble.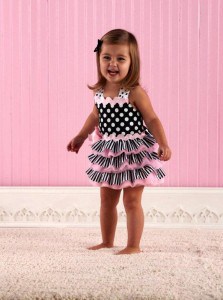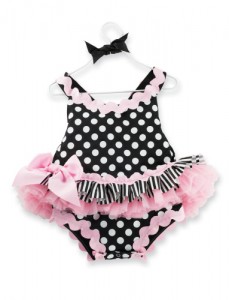 And here's the "big smiles on little faces'' that Samantha talks about.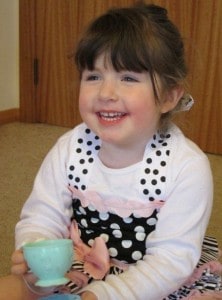 Yes, OK, a little cheesy. Once Princess Ella put her dress on, I couldn't get it off her. Which is probably better than the usual nudity that happens around here.
While my photos of Ella wearing the dress couldn't compare to the studio shots, I did get a few close ups of the detail on the dress.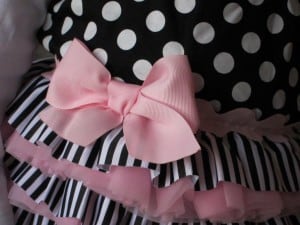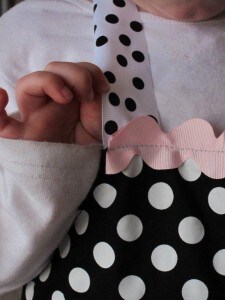 I love that it embraces being a girl, with sweet bows and gorgeous necklines. The pink against the white and black is divine and the ruffles of the skirt add an extra element of cuteness. The quality of the material and its softness against the skin make this appealing, knowing how too often party outfits can tend to itch senstive skin.
I think both outfits will be perfect for their upcoming birthday parties. Coincidentally, Samantha confessed to having lost count of how many of these she's sold, due to their popularity for birthdays and special occasions. While there's nothing immediate I could find that could be improved upon, my only real concern (and it's minor) is wondering how the black of the dress will wash against the white and pink.
If you love Samantha's taste in clothes as much as I do, please consider casting a vote in her direction via www.connect2mums.com.au before midnight on August 21. Winners will be announced in Sydney on August 27. The awards are aimed at the brightest and most innovative professional business mums. "What I love most about operating My Posh Baby Boutique is the opportunity to stay at home to raise my beautiful daughter but at the same time, keeping my mind active and utilising my business skills,'' she said.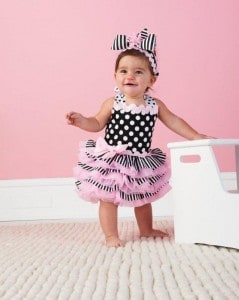 Now, there's one more reason to celebrate. Yes, you get to go shopping. My Posh Baby Boutique is giving away a $50 gift voucher to spend on anything in its range. As I've mentioned before, the boys' outfits are just as cute, including the Knuckleheads range, which is a fave of Kourtney Kardashian. You can check out the other labels on the www.myposhbabyboutique.com website and on Facebook.
To enter to win the My Posh Baby Boutique $50 gift voucher, simply leave a comment telling us which outfit you would love for your little one. The giveaway closes Sunday,
August 21 at 7pm and a winner will be drawn randomly and announced on this blog and via Facebook and Twitter. Australian residents only.
Want more entries? Then here's how you can up your chances in the draw. Each task is worth one extra entry, but must be included as a separate comment (or it won't count).
Click the Facebook button below and share this giveaway with your Facebook friends. Then leave a separate comment saying something along the lines of "I've shared this on Facebook''.
Click the Twitter button below and share this giveaway with your Twitter followers (Twitter handle is @ThreeLil). Then leave a separate comment saying something along the lines of "I've shared this on Twitter''
Disclosure: I received a Ribbon Ruffle Dress and Ribbon Ruffle Bubble to review. All opinions expressed are purely my own.