LAST month we welcomed adorable twins into our home. What? You missed that news? So you don't remember this Zhu-rrific good time?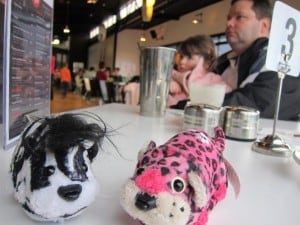 This is Zhu Zhu Pets Zhu-Leopard and Zhu-Zebra. They're part of the newly released Zhu-Fari range.
Let me introduce you to them.
Zhu-Leopard: She's the sweeter of the two. She makes little cat noises and is always happy to rub up against your leg when you're cooking dinner… then scoots off again in another direction, before doing a 360 and returning to your leg again. Yes, just a little clingy is our Zhu-Leopard.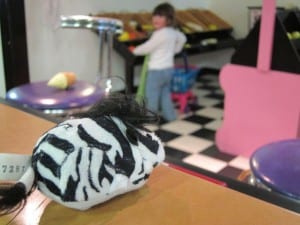 Zhu-Zebra: He's the boisterous one and also Princess Ella's favourite. In turn, he's always looking out for her (see photo). Most likely because they have similar personality traits – they're noisy (cue: galloping horse-like noises before he takes off), won't sit still and if there's a door open, they're off exploring before you even realise they're gone. I did find him in the pantry the other day trying to sniff out the cupcakes.
They also came with their own little habitats. Although, they do tend to encroach on ours more often than not. Particularly the kitchen, as you'll see:
There were plenty of giggles as the pair catapulted off the end of the ramp. Yes, this was an obsession for a while there. Poor pets!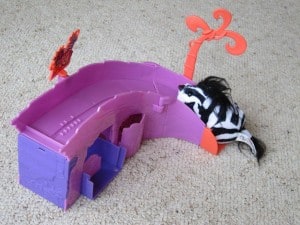 Further laughter was had when one of them went around in circles and couldn't get out of the jungle roundabout.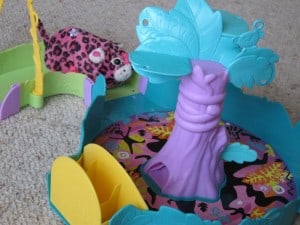 Again, poor pets. Although, after watching this video, you'll be saying "poor mum".
Ella's favourite part is the little green and purple worms. They're placed into the top of the tree and, with the help of a lever, come out a hole at the bottom.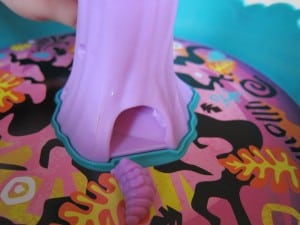 With Christmas fast approaching, they're an ideal gift for children 3 years-plus looking for their own "pet''. And much cheaper. They've been voted Australian Toy of the Year Winner for Girls, but the range also caters for boys, with Ninja Zhu Zhus. They're small, about the size of a real hamster, similar in weight and are easy to use – press the cute paw back button and away they go. They're fast, so just watch out.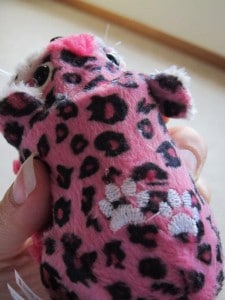 The noise factor can irritate some parents. However, the fact they make my girls giggle, makes me happy. And I find the noises quite cute, with the decibel level not piercing. So I don't have a problem with them. NOTE: To turn them off, press the back buttons or the nose a second time.
The only other issue is the wheels can play havoc if they come anywhere near little girls' hair, so heed the warning on the side of the box.
Lastly, the duo are from a good breed: here's the rest of the Zhu-fari tribe: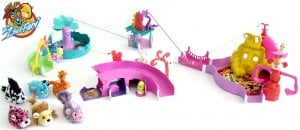 The Zhu Zhu Pets retail for $20 each and the accessories range in price. They are available at Target, Kmart, Big W, Toys R Us and all major toy retailers.
To go in the draw to win TWO fabulous Zhu Zhu accessories and TWO of the wonderful furry critters, leave a comment telling us what gets your children excited at the moment (toys, food, music, TV, sport?). The giveaway closes Sunday, October 2 at 7pm and a winner will be drawn randomly and announced on this blog and via Facebook and Twitter. Australian residents only. Limit of three entries.
Want extra entries? Then here's how you can up your chances in the draw. Each task is worth one extra entry, but must be included as a separate comment (or it won't count).
Click the Facebook button below and share this giveaway with your Facebook friends. Then leave a separate comment saying something along the lines of "I've shared this on Facebook''.
Click the Twitter button below and share this giveaway with your Twitter followers (Twitter handle is @ThreeLil). Then leave a separate comment saying something along the lines of "I've shared this on Twitter''.
**DISCLAIMER: I am an ambassador for the Zhu-fari range. I received two Zhu Zhu pets and two accessories for review. All opinions expressed are purely my own.

Hosted by Three Lil Princesses and Tina Gray {dot} Me